Mondays!
Listen, starting your Mondays can be hard, luckily we have some DJs that can fix that!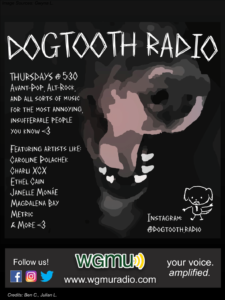 Time: 5:30 pm – 6:30 pm Desc: Curated playlists for long walks, with either dogs or humans. Tastes may vary from session to session; from Björk to boygenius, and Fiona Apple to Flo Milli- there's bound to be music both in and out of your comfort zone.
Time: 9 pm – 10 pm Desc: Climb down the stairs and behold the basement. This show is a radio simulation of my basement rehearsal space, where I, Emy G, show you music that I like, give music recommendations, and tell some fun facts!