Studio Engineer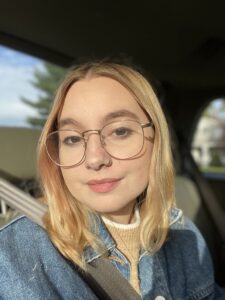 Name: Anna Wood
Year: Senior
Title: Music Director
Major: Communication
Host of:  Always Alternative (Wednesdays, 4-5 pm)
Position Description: The station music director oversees all music operations within WGMU Radio. They chart all songs played weekly for submission to record promoters and coordinate all music into our automated system. They review all music sent to the station and oversee the music review board. They also communicate with music promoters about airplay and song information.
What you love about WGMU: I love that our radio station helps local bands gain a following and provides a platform for their music to be heard.
Hobbies: Singing, playing guitar and bass, painting, photography, and going to concerts.
Favorite Bands/Artists: Bon Iver, The Glorious Sons, Bob Dylan, Cat Stevens, Dr. Dog, Simon and Garfunkel, Jefferson Airplane, The Grateful Dead, and Ben Howard.
Follow me on Social Media! Instagram: @annaelisabethwood