General Manager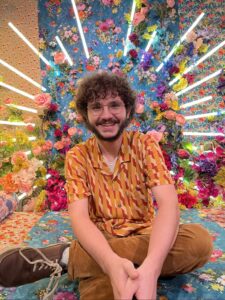 Name: Bryan Childers
Year: Senior
Title: General Manager
Major: Environmental Science
Host of:  Radio Free GMU (Thursdays, 12-1 pm)
Position Description: The General Manager serves as the student leader for WGMU and consults with the faculty advisor on the overall station direction and management. Additionally, the GM supervises all Executive Staff members and is responsible for the totality of WGMU.
What you love about WGMU: I love having a job related to what I'm most passionate about, being able to express myself on the air, and potentially help someone find their new favorite song.
Hobbies: Playing guitar, singing, reading Beat literature and horror novels, watching old monster movies, going to museums and zoos, and playing video games.
Favorite Bands/Artists: The Beatles, David Bowie, Prince, R.E.M., the Magnetic Fields, Death Cab for Cutie, Animal Collective, Neutral Milk Hotel, the Microphones, Mount Eerie, and Johnny Cash,
Follow me on Social Media! Instagram: @b.k.childers RateYourMusic: BryTheBatman