General Manager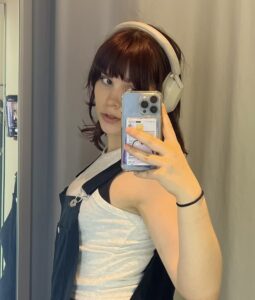 Name: Ashlyn Cole
Year: Junior
Title: General Manager
Major: Psychology
Host of:  Ash's Rotation
Position Description: The General Manager serves as the student leader for WGMU and consults with the faculty advisor on the overall station direction and management. Additionally, the GM supervises all Executive Staff members and is responsible for the totality of WGMU.
What you love about WGMU:  I joined WGMU to spread my love of music, and to introduce people to different sounds.
Hobbies:  I love reading in my free time (often a reason for neck pain). I also enjoy cooking when I am given access to a kitchen. When I'm doing anything, including the listed above, I am always playing music. There's never a moment where it is silent around me!
Favorite Bands/Artists:  This feels like a trick question! To narrow it down, I would say Doja Cat, Tinashe, Nothing But Thieves, and PVRIS (I would list K-pop/k-rnb groups but there are too many!).
Follow me on Social Media! Instagram: @strawberry.kisses___