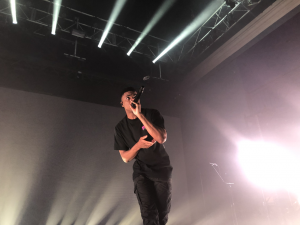 By Jonathan Ibarra
On February 22nd and 23rd, 2019 the Long Beach, California rapper Vince Staples took the stage at the 9:30 Club on his "Smile, You're On Camera" tour. Having originally scheduled only one night in DC, Staples had to add a second show after the first night sold out in a matter of days. The first opener, Armani White, took the stage at 6:15 pm, a mere 15 minutes after the doors opened. Even with the small crowd, White came to impress. His rhythmic tracks got the crowd warmed up for Buddy, Staples' second opener. Buddy spat his raps out fast and loud, calling for a mosh pit during the last song of his set that sent the crowd into a frenzy.  
The crowd was buzzing with energy by the time Staples took the stage. Opening his set with "Feels Like Summer" off his most recent album FM! (2018), Vince went on to have a good mix of songs off each of his releases.  
Living up to the title of the tour, there were cameramen placed in different locations around the stage to get shots of either Staples or the crowd. Those shots were projected onto the backdrop, which was set up to look like a big set of security monitors. The effect was an interactive experience that drew the crowd into Staples' performance by allowing audience members to see themselves in the gritty visuals. 
The long beach rapper exuded liveliness and childlike fun. Even when he would take breaks to interact with the crowd, the rapper would never let the energy of the set die down. He would be seen making faces at security when they would try to grab crowd surfers, as well as clowning audience members who would shout praise during lulls.  
Staples ended his set with "Yeah Right" off his album Big Fish Theory (2017). In place of Kendrick Lamar's verse, he thanked DC for coming out and voiced his message of love, spreading positivity. The rapper thanked Mac Miller and gave a genuine tribute to a talent lost too soon. 
The audience began to file out when suddenly the stage lit up again – this time with the late rapper's smile. Mac Miller's NPR Tiny Desk set was played in its entirety – all 17 minutes of it. As tears rolled down some audience members' faces, it was hard not to think about the impact Miller left on the music industry, including Staples' more emotional tracks. The set concluded and people stuck around, not wanting the show to be over. It was the perfect conclusion to the first night of Staples' sold out DC shows.