Dan O'Brien
WGMU, Sports Blogger
Friday November 25, 2016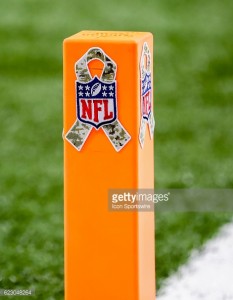 This season has had more than its fair share of headlines throughout the NFL.  When it comes to broad issues that affect a variety of people, contentious debates arose from Colin Kaepernick sitting and kneeling during the National Anthem. In regard to issues that focus mainly on the league, certain teams are polar opposites of what they were in prior years, and the amount of viewers for games throughout the league have not been what they once were. With all of these headlines garnering much deserved attention, it can be easy to lose focus on the big picture when it comes to the NFL.
This season is showing us something drastic and it would be best exemplified by no longer calling the NFL the National Football League, but rather the New Football League. This league is quietly being driven by new players, predominantly rookies. It's not simply that one rookie sensation is so phenomenal that everyone else is meager in comparison. Rather, it is the plethora of new players making an impact in different skill positions, solidifying their growing role.
There are many places to look, but a good start would be in the strongest divisions from top to bottom. These two divisions are the AFC West and the NFC East and both of which have some of the most talked about new players in the league. In the NFC East, Dak Prescott is without a doubt one of the biggest stories throughout the league and is demolishing the typical presumptions accompany a rookie quarterback. Ezekiel Elliott blew away any and all high expectations, leading the league in rushing and simultaneously being as big of a story as Dak Prescott. Carson Wentz, the rookie quarterback for the Philadelphia Eagles, has some work to recover from a bit of a slump, but the way he's already led what was a mediocre team into a team with 5 wins is no small feat. Odell Beckham Jr. in his 3rd year as a New York Giant wide receiver is making a distinct brand for himself. His temper and antics have been very divisive, causing people to debate whether he is a distraction, a young superstar with potential to go far, or both. These are just a few examples of the young talent this league is creating.
Meanwhile, the AFC West has its own slate of new players that have performed well above expectations. The Oakland Raiders came out of nowhere with this roster of new players and have taken the top spot in the division under Derek Carr in his 3rd season and Amari Cooper in his 2nd. These two young and exuberant players are leading what was typically a substandard team at best in what is now an extremely competitive division. Another AFC West team with lots of young weapons is the San Diego Chargers, with one of the best young running backs in Melvin Gordon leading the way in his 2nd year. It's worth mentioning there are only three teams with a player who leads the league with 5 interceptions this season. They are the Kansas City Chiefs and the San Diego Chargers of the AFC West along with New York Giants of the NFC East.
Overall, there are many reasons to be on the lookout for young talent to make a deep impact in a league traditionally focused on veteran players. There is lots of young talent throughout the NFL, not even just in the NFC East or AFC West, and the young stars of today are the ones who become the captains of tomorrow. It cannot be emphasized how few veteran quarterbacks have been able to consistently play at a high level in this league in comparison to previous years. Tom Brady and Ben Roethlisberger are good examples, Eli Manning should be in the conversation, and Philip Rivers could maybe be included as well. Having four top-rated quarterbacks out of the entire league is not something that should comfort many veterans. Aaron Rodgers is about as red hot as a Green Bay winter and Carson Palmer isn't playing like a lively Cardinal, but as an extinct Dodo. Most tragically of all, Tony Romo has had so many broken injuries and is now dealing with a broken heart after losing his team to Dak Prescott.
This is not to say that there is no place for veterans of the league, as there are many veterans who have performed consistently well and some who are in a slump will rebound. However, the number of youthful players in this league should be alarming to the veterans of the league. It's not just how many new players who are playing in the league. Rather it's about the new players that are starting to make a name and a brand for themselves through performing unbelieveable feats on a weekly basis. The veterans of this league need to watch out because they could very well watch their careers fade into obscurity, only being remembered by die-hard fans at sports bars and tailgates. If they would be so lucky, they might be remembered for a historic play, a Super Bowl ring, or maybe even a Hall of Fame nod, but even those might not be on their terms. Meanwhile, the youth of the New Football League should be watched with optimism for the sport as a whole. The names seen on posters and Twitter are steadily becoming the symbols for their teams and the emblems for their sport.