Anthony Fennell
WGMU, Sports Blogger
Thursday December 1, 2016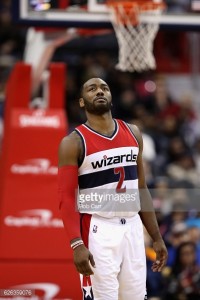 With a much needed win Monday night against the Sacramento Kings in overtime, the Wizards moved their record through the first 16 games at 6-10. Even with the win the team looked sloppy and completely out of sync.
John Wall the leader of the team had a career high in turnovers, the team missed a substantial amount of free throws, especially some key ones down the stretch. Additionally, one things that has also plagued this team has been there underwhelming frontcourt who have under produced on both the defensive and offensive end for most of the year.
For a team that has had a fair amount of success over the last five years and extreme promise for this season it has been disappointing and frustrating thus far to watch this team overall.
At this point in the season, I can't help but ask, "What has happened to the old, fun and exciting Washington Wizards?!" A team that was great on the defensive end during their playoff runs, played basketball with a unique level of passion, energy, excitement and swagger.
There was a demeanor that they would lock you down defensively and beat you up and down the floor with quick and easy highlight real dunks, layups and three point baskets. Making basketball fun to watch in DC, the Wizards of the past made one be proud to call themselves a Washington Wizards fan.
However, the product that has been given to such a dedicated fan base has been less then tolerable and acceptable. If things don't improve in the coming weeks, a change in either personnel or management must come about.
Up next for the Wizards are the Oklahoma City Thunder who are led by the absolutely dominant Russell Westbrook, who has been dropping triple doubles at ease. The hope is that the Wizards will steal one on the road tomorrow in OKC.