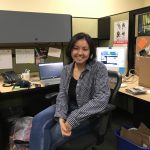 On this week's episode of The Megaphone, Igor interviews Jackie Reed, the Music Director for WGMU. They talk about student motivation, music management, taking initiative, and the convergence of the different departments of the Office of Student Media. Give it a listen! Listen HERE:
Podcast: Play in new window | Download

This work, unless otherwise expressly stated, is licensed under a Creative Commons Attribution-NoDerivs 3.0 United States License.