Becker Alshowk
Sports Blogger, WGMU
March 3, 2016
Photo credit: Getty Images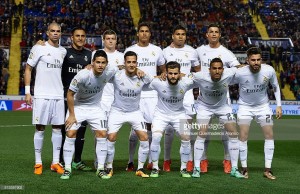 "Some people have such a talent for making the best of a bad situation that they go around creating bad situations so they can make the best of them" said former bestselling author, Jean Kerr. We can safely say Real Madrid players and staff do not qualify for such. After Saturday, Feb. 27th's 1-0 Madrid Derby loss to Atletico, Real Madrid star, Cristiano Ronaldo, had some harsh comments directed towards his teammates.
"If all the rest of the guys were at my level, then we'd be top of the league right now" Ronaldo said. When Real Madrid is not 1st , not 2nd, but 3rd place in the La Liga, 12 points behind Barcelona, who can blame Ronaldo?

Now Ronaldo clarified by saying that he was referring to the fact that youngsters Jese and Lucas Vasquez, who started the game, were not on the level of injured stars Benzema and Bale, who he considers on his level. But this is just another messy bread crumb sullying the Florentino Perez era at the Bernabeu.
This all goes back to when Perez banned Ronaldo from travelling to Morocco during midweeks in order to keep his focus at an all-time high.

But really, how much focus can help a culture so used to falling short as of late? Now it's rumored that Ronaldo & Sergio Ramos want out of Madrid. Reports said that they gave transfer requests to the club. When Los Blancos legend, Zinedine Zidane, was hired as manager back in early January, everybody expected things to be all hunky dory, filled with sunshine & butterflies.

In a way it has, Real Madrid went back to playing exciting futbol, which the same cannot have been said when defensive minded; Rafa Benitez was at the helm for the 1st part of this season.
But once again, it seems that Real Madrid is going to fail to win another La Liga Title. Their 2012 league title is the only one they've had since 2008. One title in 8 years is just not good enough. This is what's become the standard of the most decorated club in futbol history.