Cory Morgan
Sports Blogger, WGMU
March 3, 2016
Photo credit: Getty Images
Redskins fans can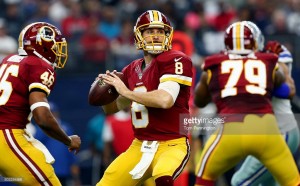 collectively exhale…for now. The number one priority of the off-season for the organization was retaining starting quarterback Kirk Cousins. Cousins lead the team last year to a 9-7 record en route to Washington's first postseason appearance since 2012. He completed an NFL high 69.8% of his passes and threw 29 touchdowns and 11 interceptions. Bottom line, Cousins had an outstanding season.
Cousins showed an ability and comfort in the offense. That is why the decision to place the franchise tag on Cousins was impactful to the organization and a top priority. He is by far their best option at quarterback on the roster. March 1 at 4:00 pm was the Franchise Tag deadline, and reports came out around 1:00 pm that Cousins received the Franchise Tag. If he hadn't, he would've hit the free agent market on March 7. There would have been plenty of teams willing to overpay him in a capacity the Redskins couldn't match.
It was a move the Redskins had to make, even though Cousins' sample size is small. The cut-throat nature of the industry and how important the quarterback position is to success in the modern NFL causes teams to salivate over quarterbacks who show even a modicum of success or ability. This leads to teams overpaying for players in general, but especially quarterbacks. The Redskins just couldn't take the risk of quite possibly losing Cousins to free agency due to a team just paying him too much money to turn down.
As of right now, Cousins is slated to make nearly $20 million in 2016. General Manager Scot McCloughan still wants to work for a long-term deal, and $20 million would be a big hit to the salary cap in 2016. It wouldn't allow McCloughan as much wiggle room to get help in other areas of the team through free agency and the draft. McCloughan and Cousins' agent Mike McCartney have until July 15 to work out a long-term deal, so there is still hope of the Redskins' quarterback situation being a bit more stable for the next few years. But, it is at least settled for next season as of now.