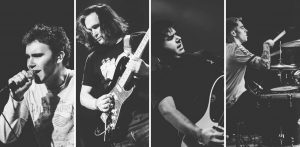 By Robert McGreevy
Promise Nothing is a up and coming band from Northern Virginia revitalizing old school and 90's Rock. Sean Gorena, Mike Holland,  Fabio Rubiera, and Ivan Stoykov created Promise Nothing in 2018, and they've been performing live venues all across Washington, D.C. since. Recently, they played Plazapalooza at George Mason University and they have agreed to tell us their story. Their upcoming performances are Pre-Mason Day Fest April 25th, 7:00-7:30 and Mason Day Fest April 26th. Come on out and show your support for Mason's own musicians!  
Podcast: Play in new window | Download

This work, unless otherwise expressly stated, is licensed under a Creative Commons Attribution-NoDerivs 3.0 United States License.