Nick Colletti
Sports Blogger, WGMU
Friday April 29, 2016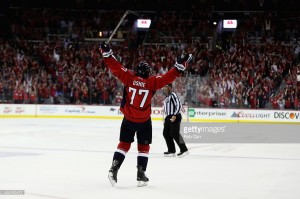 For what was the marquee matchup of the second round of this years Stanley Cup Playoffs, the battle between the Washington Capitals and the Pittsburgh Penguins in Game 1 did not disappoint. Both teams came out with a purpose and the offense got started right from the beginning. 10:13 into the first period, Andre Burakovsky snapped a rebound past Matt Murray to claim the opening tally in Game 1 and would carry the lead to the first intermission.
The Penguins would eventually dent the twine with a Ben Lovejoy goal 10:40 into the second period. Less than a minute after the first Penguins goal, Evgeni Malkin nailed a roof goal with a wicked backhand that Braden Holtby had no chance in stopping. The Red House started to get a little uneasy of these quick back-to-back goals and many remained doubtful even though the Capitals still had plenty of time to tie the game up.
It wouldn't take long for the Capitals to tie up the contest when Oshie gained a breakaway with an immense amount of speed and would roof the puck past Murray sending Caps Nation into a frenzy. The momentum favored Washington as they entered the second intermission, determined to close the game out in regulation. That determination would be exemplified when only 3:23 into the third period Oshie shot a blistering five-hole goal that gave Washington the lead for the second time. Sadly, five minutes later Nick Bonino would even out the scoreboard and the nerves of Caps fans in the Verizon Center would make an uncomfortable return.
The rest of regulation was a dogfight and a battle of wills and whoever blinked first was going to lose what was a hard-fought game. The physicality would continue and statements would be made, something you would expect from such a competitive game between two archrivals. It would take overtime to see who rightfully deserved the Game 1 victory. With almost half a period left, T.J Oshie would shine again with an impressive wrap-around to win Game 1 as well as earn a riveting hat trick. The hats would rain on the ice in commemoration as thrilled Caps fans could finally exhale and celebrate what was truly a Stanley Cup Playoff classic. It will take three more wins to dispense these birds and the Capitals can still make improvements in how they structure their game. Even if they do, the Penguins will still be a tough matchup and will probably take seven to see which team will stand tall.