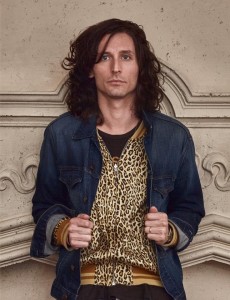 Nick Valensi, NY-native and Frontman of CRX joins WGMU staffers Jackie Reed and Mikey Bamarni in an exclusive phone interview to talk about his fall tour. Known as the guitarist for headlining band The Strokes, having him a part of WGMU is something that Reed and Bamarni assumed to not just let go, or "Give [It] Up", if you will. The album, New Skin (2016), is a cutting-edge presentation, with an abundance of deep basslines and pop undertones, and a diverse expression of creativity reminiscent of discographies' the band members have built up over the years. Literally an "On Edge" collection of pop hits and colorful mixes, the new album is an experience Valensi will surely enjoy, something that will keep him musically active during his time off with The Strokes.
Below is an interview with Nick Valensi, facilitated by Local Music Director Jackie Reed and Assistant to the Program Director Mikey Bamarni:
CRX's "Ways To Fake It"
CRX is performing at U Street Music Hall, Wednesday, November 16th. Tickets are $15, Doors open at 7pm.
The Streets of Laredo and The Gloomies will be opening the show.
Link to show: http://www.ustreetmusichall.com/event/1338683-crx-washington/
Social Media Sites:
Facebook/YouTube: https://www.facebook.com/CRXmusic/?fref=ts / https://www.youtube.com/channel/UCHSvaQrqHSVrHuHy6mGmLPQ
Twitter/Instagram: @crxmusic / @crxmusic
Snapchat: @crxmusic
Website: http://www.crxmusic.com/