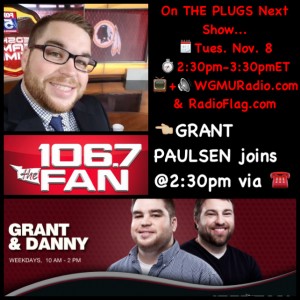 We caught up with Grant to talk about the Washington Redskins' 4-3-1 record heading into next week's game vs. the once 5-0 Minnesota Vikings, who are currently losers of 3 straight. We asked Grant how the Trent Williams suspension, Matt Jones injury, and Josh Norman referee criticisms will impact the Redskins moving forward. We then talked about HC Jay Gruden's job security if he fails to make the playoffs. We lastly touched on the Washington Wizards, who have started out the season with a woeful 1-5 record. We asked Grant if Scott Brooks was the right hire and if the core of John Wall and Bradley Beal was good enough to be a contender for years to come in the NBA. You can listen to Grant weekdays from 10am-2pm ET on 106.7 The Fan.
Podcast: Play in new window | Download

This work, unless otherwise expressly stated, is licensed under a Creative Commons Attribution-NoDerivs 3.0 United States License.