Untourable Album by Men I Trust
By Gabriel Perry | Top Tracks: Lifelong Song & Before Dawn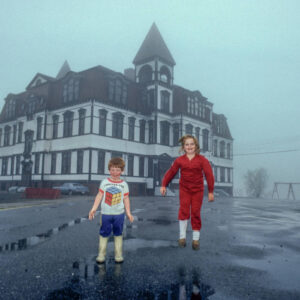 Men I Trust have released their fifth album fall of 2021. This small indie band from Quebec needs little introduction, but we shouldn't jump to conclusions. Jessy Caron and Drago Chiriac started the band in 2014, releasing heavy electronic and synth based songs from a self-titled album with brought in vocals to better help make the songs complete. Emmanuelle Proulx appeared on two of their songs on their second album, Headroom, released a year after the band's inceptions. You can actually hear the funk bass and jazz influences on this album as well, making it the backbone of most tracks.
By 2016, Emma had officially joined the band and they began releasing three singles annually. Their most popular single at the time, You Deserve This put Men I Trust into the mainstream, finally establishing a unique sound they would move forward with. Show Me How became their most iconic single, with its blend of aggressive bass, smoother pads, and almost dream like vocals. This jazz meets funk meets rock sound is a unique combination solely tied to this group which makes them different from most indie bands today. In 2019, they released Oncle Jazz, having developed a niche following by now that support them undyingly. Oncle Jazz was an ambitious album at the time with a whopping twenty four tracks (with a bonus hidden track on the CD and cassette release), blending their most popular singles with newer songs that followed a similar sound. The album delivered on its promise to be ambitious acting as a rebirth and retooling of the band towards something closer to rock than electronic.
On Tuesday night at 10pm, August 24, 2021, Men I Trust released Untourable Album on YouTube as an interactive livestream.
This unique way of releasing music is some of the luster behind the band as they do not operate in the same way modern indie bands operate. Thousands of fans poured into the livestream to listen to the new album together as a sort of make shift concert or tiny desk. If you've yet to be a part of their livestreams I recommend going once their next album releases. This band is unique to me personally as I've yet to see someone connect with their fans through a medium like YouTube the way they do before.
"So much work has been put into this album and we're thrilled to be able to share it with you today. Thank you, one million times, for your ongoing support, we're truly lucky to have you! It's been fun watching your live reactions yesterday at the album premiere. Couldn't wipe the smiles off our faces." – Men I Trust (Instagram)
The title of the album, Untourable Album, is a self-deprecating exaggeration full of unreleased 13 track singles that are all listenable. This is the first time they have released an album without a music video or single in advance. This is bizarre for most bands, but with how passionate and die hard their niche fanbase is the album arrived with little to no criticism almost immediately.
Untourable Album continues to perfect the sound they're solely known for with fluidity between songs. The elements of jazz, funk, dream poop, and rock make them both an easy listen and a fun one. The album starts with a slow burn with tracks like Oreganon and Oh Dove with lo-fi style
beats with jazzy vocals and uncurrent. Their signature warping and ambient synths are felt on this album as it can give an isolating feel through first listens which may be by design as they wanted to encapsulate the dread most felt throughout 2020 up until the album's release. The theme of this album was the isolation and almost alien year everyone had to go through with a pandemic running rampant in our country throughout all of the last 2 years.
Always Lone is a track that perfectly amplifies the reasons why people are as obsessed with the band as they are. It has a filtered funk bass that is an iconic sound mixed with an off-putting kick pattern. It's both an original and unusual sound that sits in your head when listening with headphones while the vocals paint a picture of someone longing for an old relationship to go back to the way it previously was.
"I'm not someone, you take away or leave alone, I'm not the one, to shy away and moan, And though I am, a deeply flawed human, I feel the shame, when you lay your eyes on me with pain, It's not so hard to see you getting cold, oh bring me home, where I'm proud, where the scales are plane, and it's sane."
Almost like sitting in first class on a plane, the album takes off pretty seamlessly and coasts for a good majority of its runtime. The chorus of most tracks will take you for a ride through subtle vocals that don't entirely take over a song. At times the album can feel stale if not in the right mindset as subtle hints of a much more depressive theme are present within the album, but I find that this is due to the climate of when the album first released. Some great examples of what I'm referring to is in songs such as "Lifelong Song" and "Before Dawn" as the vocals from Emma run parallel to the electric guitar and give hint to a dark reverb within the tracks. This album to me is an escape from the norm's music within the genres of funk, pop, and rock as it strives to forge a new sound and path for itself. I have a lot of personal admiration for the bands willingness to be unique and experimental with their sound, not accepting a cliché or mainstream appeal for the most recognition. Instead, Men I Trust wants to convey both an emotion and message to its audience through their work and that's rare in my eyes as they both trust and respect their audience enough to understand what they're trying to say. Like any true artists at some point in their life the album promptly called the Untourable Album is encompassed by themes of isolation and ultimate acceptance of one's self and ego. The listener is being told a story off loss, regret, and ultimate redemption through songs layered in hints of dark uncurrent, and funky jazz. This is a must listen in my opinion as it feels akin to a work of art than an actual piece of popular radio hits today.