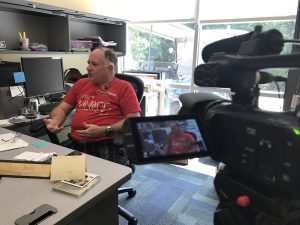 Join your host Igor Stojanov for The Megaphone, a weekly podcast about journalism, media, and active media students in the United States. This week, Igor speaks with Professor Rodger Smith, communication faculty member and advisor for WGMU Radio. They discuss Rodger's role in the professional development and motivation of students pursuing journalism and media careers.
Listen to the full episode HERE:
Podcast: Play in new window | Download

This work, unless otherwise expressly stated, is licensed under a Creative Commons Attribution-NoDerivs 3.0 United States License.