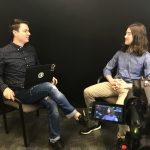 On this week's episode of The Megaphone, Igor interviews Chris Byrne, the host of "What's Your Style, Mason?" on MCN. They talk about teamwork, MCN, his show, and being a TV anchor. Give it a listen!
Podcast: Play in new window | Download

This work, unless otherwise expressly stated, is licensed under a Creative Commons Attribution-NoDerivs 3.0 United States License.