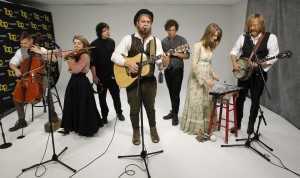 A "family" band of sorts, Chesapeake, Virginia indie-folk group "The Last Bison" is led by siblings Benjamin Hardesty (lead vocals, guitar) and Annah Housworth (backup vocals, bells, percussion), and their father, Dan Hardesty (backup vocals, mandolin, banjo). Annah is married to Amos Housworth, who plays the cello and bass. Finally, Teresa Totheroh plays the violin, and Andrew Benfante plays the reed organ and keyboard. With a sound as big and familial as the band itself, The Last Bison has quickly become a favorite in Virginia's local music scene. In fact, their song "Heritage" is featured on the 2014 Virginia is for Lovers commercial. The band has also accomplished great feats such as performing at Firefly and Newport Folk Festival. Catch them on-campus for Invisible Children's annual Fall Folk Fest on Friday at 7:30pm in the Hanover Multi-purpose room, and at the 9:30 Club in Washington, D.C. on January 30 and 31!
Watch The Last Bison perform "Endview" and "Cypress Queen" for The Mason Jar here:
"Endview"
"Cypress Queen"
Like The Mason Jar's Facebook page for more local music, and stay tuned for the release.