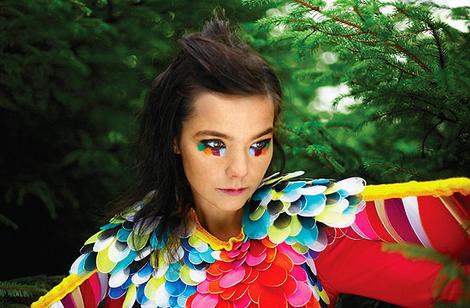 Bjork – Biophilia
Nonesuch Records
Released October 10, 2011
No matter how you look at it, Biophilia is simply a bizarre album, or rather "multi-media project," if you want to acknowledge it as such. While by Bjork standards a bizarre approach is expected and even welcomed, for a project with such strong conviction to a grandiose concept it seems to be weakest where it matters most; the music. Bjork's all-important solipsistic nature seems to have diminished and taken with it her distinguished ear and ability to filter her myriad ideas.
The album is centered on scientific concepts and how they can translate into music. While this sounds like a promising focus fertile with potential for out-there sounds, no single track seems to achieve the sense of bio-musical synthesis that Bjork has promised. Rather, they seem to be vehicles for an educational iPad suite teaching things you might find in a high-school physics textbook.
I have to wonder if the four years spent making the record were focused more on the creation of imaginary instruments and the iPad app suite than on actual songwriting. Most of the songs are packed with disparate sounds that never seem to congeal or form a driving rhythm or make a point. Worst of all, the sounds are all damn-near-silent most of the time, leaving only Bjork's lonely vocals. Loudness isn't by any means necessary and space can be a great tool for making a musical point, but usually as a means of accentuating the parts where the arrangement is full and moving. The sounds on this record are simply disinterested and lost. Even the few sounds which manage to stick out for brief moments faultily pander to movements already far back in most people's rear-view mirror, namely dubstep and '90s-era-IDM.
Everything seems to be minimal right down to Bjork's vocals, arguably the most crucial element of her songs. She doesn't seem engaged or interested in the works, and the playful attitude she brings to her best pieces is altogether absent from the entire record. If she can't hold our attention, I doubt an instrumental Tesla-coil will, especially if you remove the visual element from the mix.
In short, many of the concepts present in the project as a whole would have been best transcribed into a musical form. It's a shame the record was envisioned as being ensconced in this multi-media scaffolding from its inception, as this approach seems to have constricted what it can achieve on its own, and at the end of the day I'd wager most people will only know the music exists and wonder what happened upon hearing it.
-RK.