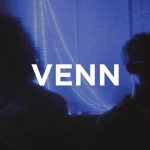 Shoegaze spinsters Venn joined WGMU's Jackie Reed in the studio for an epic interview. Hailing from Woodbridge, Virginia, Venn takes their VA roots to shows and brings a blend of undeniable energy and smooth rhythm to the D.C. music scene.
Venn is Jon Fetahaj, Holden Cihelka, and brothers Julian and Gabe Earle. In February 2017, they launched their self-titled EP after a year of playing shows, writing music, and curating their own, unique sound. Their dreamy set is layered and multi-faceted. Their tracks take listeners on a trip, typically to an intangible dimension that goes above and beyond music expectations today.
Interview:
Follow Venn on YouTube, Facebook, Twitter, and Instagram.
Podcast: Play in new window | Download