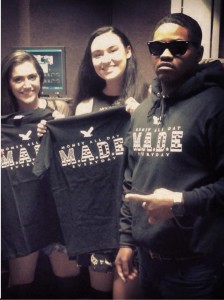 Gedo, a rapper and Marine from Chicago stopped by Dictation, where he promoted his new lead single , "Party at My Place". After Joining the Marine Corps, he sought out a career as a solo artist. Since joining the Marine Corps, Gedo has performed overseas in Bahrain, at Club Wranglers, and other nightclub areas in other countries. Back in the states he performs throughout the DMV, while doing radio interviews and promoting his music which can be found at www.gedomade.com. For more interviews like this with Gedo, tune in to Dictation, Sundays at 5PM with Roxanne and Suzanne, as they give you the news, and a little bit more.
Listen to the interview HERE
Podcast: Play in new window | Download

This work, unless otherwise expressly stated, is licensed under a Creative Commons Attribution-NoDerivs 3.0 United States License.