Justin Cheng
WGMU Blogger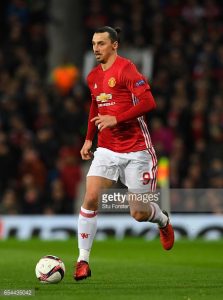 With Zlatan Ibrahimović picking up a three-game ban, Jose Mourinho and Manchester United are desperate to figure out a plan to play without him. For the next three games, they are playing the league leader Chelsea in the FA cup, the Middlesbrough and Wes Bromwich. Zlatan even scored an away goal playing against Rostov in the Europa league Thursday.
The ideal way is to pick Rashford up front and simply replace Zlatan's place with another forward, with Rashford, Martial and Mkhitaryan, they are providing a quick attack team performance to the team. However, the problem to this plan is that not only Jose Mourinho prefers to pick out experienced player, Rashford is nothing like the tall, strong Swede. Even though Rashford is quick enough, Zlatan has the perfect ball controlling skills that the young English just cannot come near to. More importantly this is something that Manchester must figure out.
Rumor has it that Zlatan will not extend his contract with Manchester United. Zlatan is already doing a fantastic job for his age. He is still one of the top scorers around the world, but he is not getting any younger. It is now time for Manchester United to search for a padawan to take his place in the possible future.