By: Ryan Huff, WGMU News Director
On Thursday December 9th Student Media will be celebrating George Mason's 285th birthday. The event will be taking place in the SUB I Patriots Lounge from 10:30am-1:00pm. To help celebrate his birthday there will be an appearance by Gunston Hall's George Mason along with President Merten and Tom Moncure. 
The event will also feature free birthday cake, games, prizes, along with the Patriot Leaders signing Mason's Fight Song.
All students are invited to attend the festivities throughout the day to wish the man who the University is named after a happy birthday. For more information regarding the event please contact Dan Waxman dwaxman@gmu.edu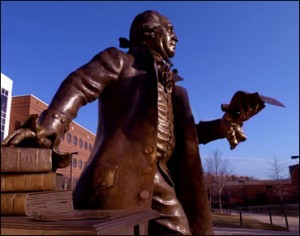 This work, unless otherwise expressly stated, is licensed under a Creative Commons Attribution-NoDerivs 3.0 United States License.