Nicholas Ortiz
Director of Sports Media, WGMU
November 17, 2015
Photo Credit:  Alex Caparros/Getty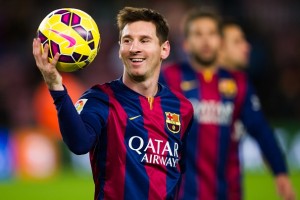 El Clásico part one has finally arrived! And with November 12, 2015 rapidly approaching, El Clásico may be without some key players. Barcelona may be without Messi, although he could be a surprise addition to the roster considering he practiced with the squad this week.
Real Madrid will be without the services of Keylor Navas, who has been in stellar form all season.
Barcelona currently sit alone and on top in first place with 27 points in La Liga. Real Madrid are only three points behind the Catalans however and will look to close the gap between them and their arch rivals.
The keys to this game will be how disciplined both teams play. That being said, this is El Clásico we are talking about and there are almost always brawls breaking out. So it will be up to which team can keep a cooler head throughout the match.
Neymar and Luis Suarez have been unstoppable since losing Messi. Barcelona head coach Luis Enrique, will have to be careful not to rush Messi back into the lineup in order to have him available later on in the season. The addition of Messi will prove to be no easy task for Real Madrid.
With the form Neymar and Suarez have been on, Messi may not have to be rushed back into action just yet. I understand that this weekend is El Clasico, but Barcelona fans must not get carried away thinking that Messi has to play this weekend just because it is against Real Madrid.
Granted, this match-up is always the most important in La Liga, but a players health, especially of the category of Messi, should take precedence.
Barcelona look to be in good shape heading into this match-up even without the Argentine. The team as a whole is playing well and adding Messi too soon may prove to be disruptive to the team's current form.
As for Real Madrid, they will have a few names joining the team this week that have been missed recently, including the likes of Karim Benzema, Sergio Ramos, and  Marcelo all coming back to train with the team this week.
For Los Blancos, it will come down to their defense and how they deal with the in-form duo of Neymar and Suarez. With Keylor Navas presumed to miss out this weekend, it will be up to newly acquired goalkeeper, Kiko Casilla to play in the biggest game of the season so far. He has disappointed this season since joining the Capital from Espanyol over the summer transfer window.
Real Madrid head coach, Rafa Benitez will have his hand full though this weekend as he makes his Clásico debut in front of his home fans in the Santiago Bernabéu.
That being said, anytime you have a player like Ronaldo available, your team has a chance to win. Barcelona may be the current Champions League Winners, but Real Madrid are not team to underestimate and the Barcelona staff know that.
I predict this game to be close. Ultimately,  Barcelona will prove to be too much for Madrid with the Catalans leaving the Bernabéu with a 3-2 victory to extend their lead to six points in La Liga in what will be yet another entertaining Clásico between the two biggest teams in Spanish soccer.