Becker Alshowk
Sports Blogger, WGMU
November 24, 2015
(Photo Credit: Alejandro Garcia/EPA)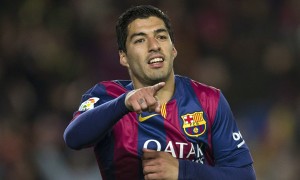 For soccer fans, The Clasico between Spanish giants Real Madrid and Barcelona is seen as the most popular game of every season. Each team is usually made up of some of the best players in the world at their respective positions. In the 21st century, we've seen this rivalry take on even more hype and storylines than just the team names themselves. Barcelona and Real Madrid are each home to players like Lionel Messi (Barcelona) and Cristiano Ronaldo (Real Madrid), universally recognized as the two best players in the world. Each have been battling and winning player of the year awards for the last 6 years. In the process, each have broken scoring records, games won, and winning trophies year in and year out.
Barcelona and Real Madrid have a special rivalry that supersedes the action taken place on the pitch. Each time these two matchup, bragging rights are on the line. The 2015-2016 season's first matchup was no exception.
On Saturday, Nov. 21, 2015, we saw these two Spanish giants play each other for the first time this year at the Santiago Bernabeu, Real Madrid's prestigious and historic home turf. The game did not live up to par to say the least. Real Madrid suffered its worst home loss to Barcelona since 2009, being outclassed 4-0. In that 2009 matchup, Real Madrid lost 6-2 and this can be classified as a more devastating loss because of the fact that Real Madrid failed to score a single goal in front of their home fans.
Lionel Messi was forced to start the game from the bench because of injury. You would've thought this would've opened the door for Real Madrid to take full advantage, since their big star, Cristiano Ronaldo, started. But that was not the case what so ever. People seemed to forget that Barcelona also have 2 other players that are ranked among the top 5 in the world, Brazilian star Neymar and star Uruguayan striker, Luiz Suarez.
Messi has been out with injury for the last few months, but Barcelona hadn't missed a beat because of Neymar and Suarez. Coming into the game vs. Real Madrid, the pairing of Neymar and Suarez had scored Barcelona's last 16 goals and were a top the table in the Spanish League's La Liga. Neymar added 1 more and Suarez 2 more goals in the game vs. Real Madrid to their already remarkable scoring tally for Barcelona so far this season.
Real Madrid on the other hand were second in the table, just three points behind Barcelona going into Saturday's matchup. They had their share of injuries with star defender and team captain, Sergio Ramos, prolonging shoulder surgery to play in the Clasico. Also Real Madrid's star striker, Karim Benzema, was playing his first game back from injury that had kept him out for the last 4 games.
Real Madrid was embarrassed on their home turf on Saturday and seemed unprepared to slow down Barcelona's scoring duo. Most of Madrid's problems in the game came from a lack of communication between their defenders. There were way too many holes in the middle of the pitch that gave Barcelona's attacking players plenty of room to maneuver. Most of the Real Madrid fans blamed coach, Rafa Benitez, for his terrible tactics and game plan going into the game.
Benitez was hired as coach of Real Madrid last summer, after Real Madrid President, Florentino Perez, fired the Italian fan favorite, Carlo Ancelotti. Ancelotti brought Real Madrid it's world-record 10th UEFA Champions League title back in 2013, but was fired because he failed to get Madrid a single trophy last season. The Madrid fans were very upset with Florentino Perez and thought he brought Benitez in as coach for political reasons. Up to this point in the 15-16 season, it has not looked like a good decision for Perez as Real Madrid now sees themselves in 3rd place in the La Liga after their defeat to Barcelona on Saturday.
In the process, their have rumors linking Real Madrid's Cristiano Ronaldo to a possible exit from the club at the end of this season. It's being reported that Ronaldo is unhappy with Benitez's mentality and tactics.
With a trophy-less season last year for Real Madrid and now Ronaldo exit rumors, it doesn't look good for Madrid fans across the world.
But still, Real Madrid have time to recover from the devastating loss to Barcelona, with another matchup against the La Liga Leaders on April 3rd at the Camp Nou, Barcelona's home turf.
Unfortunately for soccer fans across the world, with only 2 scheduled games between Real Madrid and Barcelona every season, 50% of this year's rivalry matchup has been ruined.