Michael Revollo
Sports Blogger, WGMU
February 17, 2016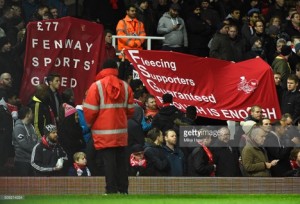 (Getty Images/Mike Hewitt)
Liverpool F.C. supporters are some of the most loyal soccer fans to a club you will find on the face of the earth. With tremendous passion and cohesiveness, the fans religiously sing 'You'll Never Walk Alone' in unison, minutes before kickoff at every match. If it is something you have never witnessed, it is a site to behold.
From beating the odds by winning the Champions League title in 2005 and having a stellar 2013-2014 Premier League campaign thanks to the 52 goals from Daniel Sturridge (21) and Luis Suarez (31), to not qualifying for the Champions League for a number of years and performing at a subpar level, the fans have faithfully been behind their team through thick and thin.
Most recently, however, these same supporters felt their loyalty for the club being put to the test. Liverpool owner Fenway Sports Group, which also owns the notorious MLB franchise Boston Red Sox, announced a plan to raise ticket prices to £77 ($112) for seats in the rebuilt Main Stand section of Liverpool's stadium, Anfield. This plan was scheduled to take effect at the beginning of the 2016-2017 season, but faced intense opposition from Liverpool supporters.
To express their discontent toward a ticket price raise they considered "morally unjustifiable", the supporters took a stand. Literally.
On February 6th, ten thousand Liverpool fans in attendance at the match against Sunderland A.F.C walked out of their seats and into the concourse in the 77th minute.
Principal owner of Fenway Sports Group, John W. Henry, and chairman Tom Werner, were reportedly surprised at the sight of thousands of Liverpool fans walking out to protest the change in ticket prices. Reports also indicated their shock at the abuse they faced when supporters chanted, "Enough is enough, enough is enough, you greedy bastards, enough is enough."
FSG released a lengthy letter published to the club's website, apologizing "for the distress caused by our ticket pricing plan for the 2016-2017 season." In addition, FSG stated ticket prices would remain unchanged for the next two seasons.
The Liverpool Supporter's Committee, an elected group formed in response to the club's takeover by FSG in 2010, had been in negotiations with the sports group for 13 months to provide affordable and accessible options to young and local supporters.
FSG acknowledged the meetings that took place with LSC, stating, "We met directly with representatives of LFC's Supporters' Committee and along with LFC management, wholeheartedly agreed with major concerns raised, notably: access for local and young supporters; engagement and access to Anfield for local children; access to Premier League matches for those in Liverpool most challenged by affordability" (liverpoolfc.com).
Spirit of Shankly, a Liverpool supporters' union, took FSG's apology as "a positive step in repairing the relationship between owners and supporters."
"We welcome these changes from the owners and that they have recognized the mistake made and apologized for it. We take no delight in them being wrong. It helps no one. What is important though is that a lesson is learned and that proper engagement and taking note of supporters' concerns occurs and those views are taken more seriously" (Spirit of Shankly).
Only a few days later in Germany, Borussia Dortmund was visiting Stuttgart in a DFB-Pokal match when Dortmund fans decided to stage a protest themselves, disagreeing with the €70 ($78) tickets for the match set by Stuttgart.
For the first 20 minutes of the match, Dortmund supporters did not go to their seats. The supporters' group present at the game, 'Kein Zwanni' held out a banner that read, "Fussball muss bezahlbarsein", meaning "football (soccer) must be affordable."
Once Dortmund fans started heading to their seats, they began to throw tennis balls onto the field, forcing the referee to stop the match so the balls could be removed from the pitch.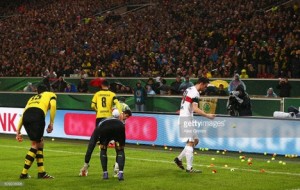 (Getty Images/ Alex Grimm)
Marc Quambusch, a spokesperson for the Kein Zwanni (No to €20) campaign responsible for the protest, elaborated on why fans threw tennis balls onto the pitch as their form of protest.
"We have a German saying: 'Das ist ganz grosses tennis!', it roughly translates to 'that is great tennis,' and in an ironic kind of way, the prices at Stuttgart are great tennis. Should the price hikes continue like that, only tennis fans will show up in the stadiums."
German media took the tennis ball protest with a sense of humor, but unable to fully comprehend its meaning. Quambusch went on to say, "Of course, people feel disturbed when you disrupt their event. And that's a good thing. It's a way of civil disobedience."
For those outside of the Bavarian nation, the situation was difficult to understand as the Bundesliga was considered a league that provided affordable tickets to its fans.
"Indeed, the prices of standing tickets are very low compared to the cheapest tickets in England. But there aren't many standing tickets, and the prices for seats are not far from those in England by now," said Quambusch (ESPN FC).
Whether the trends of walking out of the stands during a match or throwing tennis balls onto the field are able to replicate the discussion and concern thereafter remains to be seen. One thing is for sure, the supporters of both clubs, and many other clubs who may follow suit if posed with similar circumstances, will not let ownership do as they please.
If there is any way to phrase the message supporters would want to send to owners of their clubs, it could be summed up by one Liverpool fan holding a piece of paper with a message directed to the club's chief executive officer, Ian Ayre, during the match against Sunderland. A brief, yet commanding statement that lets ownership know money can buy world class players, but not world class fans:
"Mr. Ayre, I am not a customer. I am a fan.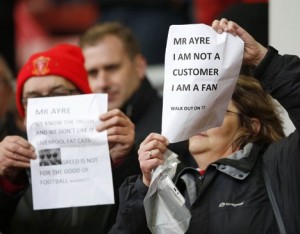 (Reuters)