Nick Colletti
WGMU, Sports Blogger
Tuesday January 10. 2017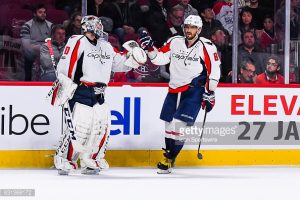 Hockey history took place last night at the Bell Center in Montreal, the successor of the hallowed Montreal Forum. The Capitals, winners of five straight, skated on enemy ice in hostile territory looking to keep their impressive winning streak alive. The Caps would claim victory and another coveted two points, but it would be Alex Ovechkin who stole the headlines.
The Capitals' captain scored his 544th NHL goal tying the legendary Maurice "Rocket" Richard's all time goal record, in Montreal no less. It would be the future Hall of Famer's 19th regular season goal and now the superstar is only 1 point shy from his 1,000th career point total. But it was an impressive team effort that helped the Caps claim the W in the end.
Nicklas Backstrom got the party started with a dirty goal off a Carey Price rebound in the slot that gave the Capitals the opening tally. No red lights would be ignited until the third period, due to the Capitals impressive defense and Braden Holtby's exceptional performance in the crease. Unfortunately Holtby would have his shutout streak ended when Tomas Plekanec followed through on a rebound amidst a pile of humanity in the slot. Habs fans erupted and Montreal finally had life, but their momentum would dissipate very quickly.
Evgeny Kuznetsov broke the tie off with a deke past a Montreal defender and then chipped the puck past Price to quiet the Bell Center and their passionate inhabitants. The goal would only be the beginning of an offensive clinic by the road team that prevented the Habs from making any real comeback effort. Kuznetsov would register another point as he aggressively forced a turnover behind Price's net and gave a beautiful feed to Brett Connelly who beat Price and scored a very valuable insurance goal. The scoring wouldn't end that night as the man of the hour tied Richard's career goal record with a Howitzer on the point. Ovechkin is now only 1 point less than a 1,000 and has a chance to earn that last point at home against their fiercest rival in the Pittsburgh Penguins. 4-1 would be the final score for the road squad in what can be a very loud and fierce environment for the visitors. The Capitals have won six straight and look sharp in all facets of the game. The schedule that looms ahead looks daunting, but Caps fans should be confident that their team is starting to play their best game at the right point of the season. Every game is winnable and every playoff game is winnable if they can stick to their game and not compromise it for any opponent.