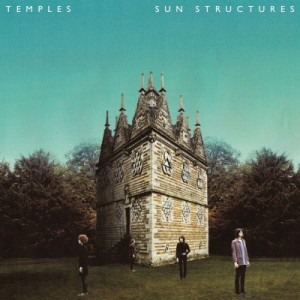 Temples
Sun Structures
Heavenly Recordings, February 10 2014
Reviewed by Jon Howard
If you had tried to tell me a few years ago that psychedelic rock was about to make a massive comeback, I probably would have laughed and told you to keep dreaming. Of course, there were a few lone signs of what was to come, most notably MGMT's sophomore album Congratulations, in which they abandoned synthpop in favor of psychedelic surf rock.  Seemingly out of nowhere, psychedelic artists like Tame Impala and Foxygen began to gain large followings, while established artists began to add more experimental elements to their music.  By 2013, psychedelic rock had become one of the biggest non-pop music genres.  Thanks to the recent popularity of their musical style, the newly formed Temples were able to hit the ground not running, but sprinting. Already set to begin their first headlining tour, Temples also just released their debut album Sun Structures for the masses.
From the very first track, Sun Structures sets itself apart from the other members of the burgeoning psychedelic rock scene. "Shelter Song" isn't monotonous or overly unconventional. It's catchy. It's pop. Where most psychedelic rock artists today incorporate wild experimentation, Temples stick to the basics.  Not counting John Lennon's "Revolution 9", 1960s psychedelic rock wasn't trying to distort reality. It was simply pop music with a twist.  "The Golden Throne" is delightfully weird, evoking an almost Egyptian feel before transitioning into a pleasant string-laden chorus, then fading out with a melancholy lone keyboard.  The track "Mesmerise" is appropriately named, featuring choir-like vocals and a dreamlike quality.  It's… well, mesmerizing.  The centerpiece of the album is the kaleidoscopic "Colours to Life". The chorus is instantly infectious, the guitar riff will stick in your mind for days, and the fast-paced percussion complements it all perfectly.  If you only listen to one track from Sun Structures, make sure it's this one.  "Test of Time" is as similar as Temples get to Tame Impala's distinctive style influenced largely by The Beatles' "Tomorrow Never Knows", while also drawing some influence from Barrett-era Pink Floyd.  The album closes with the serene "Fragment's Light", a short reflective piece that serves as a fitting end to Sun Structures.
Sun Structures is evocative, nostalgic, and a great album for any collection.  Rather than take a modern stance on psychedelic rock like Tame Impala or Pond, Temples have created a window to the past.  Sun Structures could easily have been a Beatles album between Revolver and Sgt. Pepper's Lonely Hearts Club Band, or an early Byrds record.  That isn't to say that Temples are old hat; they're more like a lost band from 1967 that suddenly found themselves in the year 2014.  And with any luck, Temples are here to stay.
Recommended Tracks: "Shelter Song", "The Golden Throne", "Mesmerize", "Colours to Life", "Test of Time"