Flamingos Pink – Outtacontroller
By: Anna Wood | Top Tracks: Look At Me,  New Kinks (I Got It)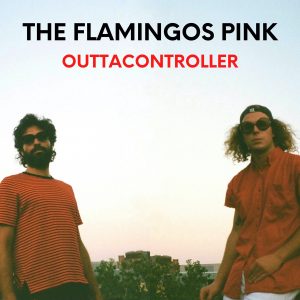 The Flamingos Pink is self-described as being "a ruckus band and a ferocious duo." After listening to Outtacontroller, I realized their music lives up to its promise. This album certainly packs a punch and makes me desperately wish I could be moshing at a concert right now.
The album opens with "Best We Ever Had." This song is catchy, and I frequently found myself tapping along. The powerful guitar and passionate vocals create the perfect mix of melody and madness, making this the perfect opening track.
"Life's Automatic" is more upbeat than the first track. The verses could be compared to Green Day's likes, while the chorus reminds me of The Glorious Sons. The Flamingos Pink consistently walks the line between being edgy and catchy, but boy, do they do it well.
The track "New Kinks (I Got It)" is the heaviest on the album, with a chorus that would be so satisfying to yell along to at a concert. The lyrics "I know you want it, I know I got it" reminds me of that post-breakup feeling when you want your ex to see how happy you are without them, which perfectly fits the whole vibe this song gives off.
The fourth track on this album is titled "Crossing Borders." This is a slower one, with soft guitar and a more tame feel to it. The melody and chord changes provide a nice dynamic. This track demonstrates that The Flamingos Pink doesn't need to rely on sheer loudness and power to be incredible; they have vast musical knowledge that complements everything they create.
"Not For Today" and "Now I Know" both contain slightly different dynamics than the rest of the album. These two tracks are refreshingly different. It is always enjoyable to listen to a band with such a broad range of styles and songs on one album, with no two tracks quite alike.
"Bloodstrap" goes back to the loud, energetic feel of the opening tracks. It's fast, it's loud, it's short, and it's jam-packed with power. If this song doesn't make you miss live music, then I don't know what will. This band serves as a reminder that modern rock is here to stay, and it's better than ever.
Next on the album is the track "Look At Me," which is so unbelievably catchy. I've found myself tapping my keyboard to the rhythm of the guitar. This song is full of angst and describes everyday life's woes, from the boredom of routine to the people you meet that tend to all be the same.
"Barrel Of A Gun" is the outlier of this album: an incredible interpretation of folk-rock. The Flamingos Pink combines their classic, upbeat rock sound with the likes of Mumford and Sons or Of Monsters and Men. Some may find this song to be too different from the rest of the album, but in my opinion, it demonstrates that The Flamingos Pink can play anything and sound great.
"Right-Wing Chicken" could be compared to Joan Jett, especially with the opening guitar riff. This song is another short one that manages to make a substantial impact. The extended outro makes this song especially impressive, with the chaos and power of the verses becoming more and more prominent as the riff is repeated.
The final track on this album is titled "Morning Light." It is not necessarily a slow song, but it is undoubtedly less loud and edgy compared to many of the tracks on this album. This is a real gem on the album, even if it's not their typical sound.
The Flamingos Pink have proven themselves to be a band of many talents. Each song is unique in its own right, and this is a band that doesn't seem to follow a specific formula when writing their songs. If bands such as this are the future of modern rock, we should consider ourselves incredibly lucky.
Outtacontroller releases this Friday, October 23rd. Preorder the album or listen to Flamingos Pink here.