Kaleel Weatherly
Sports Blogger, WGMU
February 7, 2016
Photo credit: (Getty Images)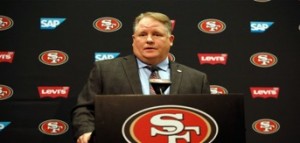 Former Philadelphia Eagles Head Coach Chip Kelly is now running the show in San Francisco. This hiring was puzzling to most sports analysts and reporters, especially since Kelly was fired because the front office in Philadelphia did like the trajectory that the team was going in.
For starters, while Kelly was with Philadelphia, he led the Eagles to a 10-6 record and won the NFC East. His quarterback at the time, Nick Foles, threw for 27 touchdowns and only two interceptions. Kelly's offense ranked second in the league in total yards and first in rushing yards in 2013. The trajectory of the team looked to be ascending.
However, the 2014 and 2015 season did not go too well for Kelly's Eagles. Indeed, the team finished with a 10-6 record in 2014, but they did not make the playoffs. In 2015, the Eagles fired Kelly.
Kelly was released from his duties before the team played its final game of the season. The team was held a record of 6-9 before his release. After three seasons in Philadelphia, Kelly's record was 26-21.
However, the win-loss totals are not the only things that led to his departure. During his tenure, Kelly made some head-scratching changes to his team. He traded Foles to the Los Angeles Rams for quarterback Sam Bradford on March 10, 2015.
He also traded running back LeSean McCoy to the Buffalo Bills for linebacker Kiko Alonso. DeSean Jackson, a former Eagles wide receiver, said that Kelly's firing was a result of "bad karma" because he broke up a good team in the City of Brotherly Love.
There have also been players who said Kelly does not know how to communicate to his players. Former Baltimore Ravens Head Coach Bill Billick said some players told him that Kelly treated them like "college players," and he does not listen to his players' opinions.
Can Kelly achieve a level of success in San Francisco that he didn't in Philadelphia? Also, how is he going to get along with his new players? Let's not forget that the 49ers had a coach named Jim Harbaugh that took them to three straight NFC Championships and a Super Bowl. However, he was released from his duties after four years because of his conflicts with the front office and players. There were reports saying Harbaugh was "hard to get along with."
Reports on Kelly and Harbaugh seem identical, right? So, why would the 49ers hire Kelly? The reason is this: 49ers quarterback Colin Kaepernick fits his offense. Kelly wants a quarterback who can throw and run to lead his offense. The organization believes that Kelly's spread offense will resurrect Kaepernick's career.
Kaepernick is not the only problem on this team. Besides Anquan Boldin, the receivers for the 49ers are mediocre. So, Kelly will have to address that position. The offensive line struggled last year to keep their quarterback clean. Indeed, the 49ers have a promising running back in Carlos Hyde to tote the pigskin for years to come, but they need more pieces around him.
As for the defense, there are some great players like linebacker NaVorro Bowman and safety Eric Reid. However, this team has some question marks on its defensive line and secondary. Kelly is not known for coaching great defenses, but he will have to if he wants to win the NFC West.
There is still a whole offseason to get through before the 49ers start their 2016-2017 season, but Kelly has a lot of work to do. The talent on the team is there. If Kelly wants to experience success with the 49ers, then he is going to have to build a solid team and communicate with his players better than what he did in Philadelphia.