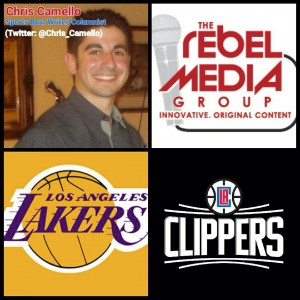 We caught up with with Chris to talk about the LA Lakers and Clippers start to the 2016-2017 NBA Season. The Lakers, although with a record of 1-2, have looked surprisingly exciting with a mixture of youth in the first season of the Post-Kobe era. We touched on the Lakers mixture of young talent, including D'Angelo Russell, Julius Randle, and Jordan Clarkson. We also asked Chris if this was 'the last hurrah' for the Chris Paul-Blake Griffin-DeAndre Jordan nucleus for the Clippers. We lastly touched on the 2016 World Series. In 'the series of droughts' between the Cubs and Indians, one team will end it's world series curse. Game 6 is tonight at 8:08pm ET in Cleveland.
Podcast: Play in new window | Download

This work, unless otherwise expressly stated, is licensed under a Creative Commons Attribution-NoDerivs 3.0 United States License.