Dan O'Brien
WGMU, Sports Blogger
Thursday December 8, 2016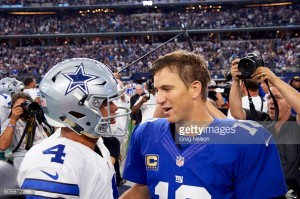 Oakland Raiders 27 @ Kansas City Chiefs 30
This game could be a match between two very dominant, yet decidedly different offenses. The Oakland offense is the sort of offense that ends up on a lot of highlight reels and gets mentioned daily on radio talk shows. There are explosive players with young faces that light up TV screens through plays that get more talked about than the game itself. These players don't always make every catch and could use some work on fundamentals, but they sure do know how to make the 80-yard catch that gets shown in every sports highlight reel the next day. The Kansas City offense is much less talked about, but could be just as scary. While the Oakland offense is likely to make mistakes that lead to a 3rd and long catch for a touchdown, the Kansas City offense is likely to be consistently good enough to have multiple 15-play drives down the field to get into the end zone. This game will be thrilling to watch and will play a key part in who wins the division, who gets a wild card spot, and who goes home early. Oakland will look explosive as its young team is one of the best in the AFC and maybe the NFL, but Kansas City plays great at home through good coaching and leadership from Alex Smith to win the home game.
Washington Redskins 24 @ Philadelphia Eagles 17
Washington is a team that has not been talked about much lately, but they have reasons to be successful. In the past, Washington has played like a team with weapons that can match up against tough opponents. However, they have also played like a team that plays down to average opponents and can even lose to bad opponents. This is a key divisional matchup with pride on the line for Philly and a potential playoff spot on the line for Washington. The Eagles have been playing like they forgot how to fly and Washington can win a much-needed game to assist them in their attempt to reach the playoffs in two consecutive years. Philadelphia will play tough at home in a divisional game late in the season, but Washington will find a way to win and keep playoff hopes alive.
Houston Texans 14 @ Indianapolis Colts 31
Indianapolis is a team that can perform well, but hasn't been playing consistently well enough this season to have a lead in the awful AFC South. However, Indianapolis has leaders on its team like Andrew Luck who can help win tough games, like a late season matchup with a divisional opponent in a meaningful game. This game will play a major part in determining who will win the AFC South and I just can't see the Texans getting out of their slump to win a game like this. I predict the Colts will follow up their massive routing of the Jets last week with a decisive win to stake their claim to the AFC South title.
Cincinnati Bengals 27 @ Cleveland Browns 10
Cincinnati has legitimate problems when it comes to sustaining success. For the past couple of years, Cincinnati was the team that always had reasons to get into the playoffs with high hopes, but would end up squandering it and wasting an entire year not meeting its true potential. This year has been different, but unfortunately it has gone worse. People aren't afraid of Cincinnati like they were in years past and this team will play with a chip on its shoulder. The fact that Cincinnati is almost out of the playoff picture and there's nearly a month left in the regular season is astounding. Cincinnati plays angry and wins against a winless opponent, showing a fire that could have won them close games earlier in the season.
Denver Broncos 23 @ Tennessee Titans 20
Denver is a team that has a very solid record because of strong defensive play and occasionally good play by Trevor Siemian. However, Denver appears to not be playing quite as well as they were earlier in the season. Tennessee is a team that typically is associated with Jacksonville and Cleveland as consistently underperforming year after year. However, Tennessee is showing potential under Marcus Mariota as he is showing growth at a great time in the season. Due to Denver's strength on defense as well as how much they need to win this game to help get to the playoffs, they will win a surprisingly close, but crucial victory.
Arizona Cardinals 24 @ Miami Dolphins 31
Miami has played decisively good football for the past two months, especially when it comes to home games, as they haven't lost at home since October 9th. However, their winning streak came to an end last week in a brutal loss going away to Baltimore and some people might lose faith in their ability to win late in the season because of that loss. The Dolphins have reasons to win, whether it be the dominant play at home along with the unusual motivation they have due to the rare opportunity they have to get to the playoffs. Arizona played well last week to beat a Washington team that I predicted would bring the team one win closer to a playoff spot. Arizona showed sparks of life, but I don't see how Arizona could sustain success to defeat a playoff-motivated Dolphins team that is coming off a brutal loss and looking for revenge.
Chicago Bears 14 @ Detroit Lions 27
Divisional matchups tend to be some of the closest games on a weekly basis, especially when it comes at the end of a season. These games can have a massive impact on who plays in the postseason and who watches it at home, but they always have a more competitive nature than a typical game. Chicago has not had a good season and it doesn't take John Madden or Jon Gruden watching hours of tape to figure that out. There has been no consistently good quarterback and there isn't enough talent throughout the rest of the team offset the often-substandard play behind center. Detroit started out the season in surprisingly good fashion, barely edging out Chicago to avoid being worst team in the division. They have come back decisively to gain the division lead from the faltering Vikings, the dysfunctional Packers, and the abysmal Bears. Chicago will put up a better fight than usual, but the Lions have too much momentum with an underappreciated Matthew Stafford to lose and they will start to solidify the divisional title with a win.
Pittsburgh Steelers 27 @ Buffalo Bills 21
Pittsburgh is one of the best teams in football in danger of not making the playoffs. This is due to a competitive matchup between them and the Baltimore Ravens atop the AFC North as well as a strong AFC West unlikely to get less than all of the wild card spots and assured of at least one of them. The Steelers have played exceptionally great on offense, so great that their atypically average defense has not held them back. Pittsburgh is a gritty team that knows how to play tough games against divisional opponents, but can play tough against anybody. Ben Roethlisberger is one of the best clutch quarterbacks in the game and knows how to win in the winter unlike most quarterbacks. The Bills will play tough with a wild card spot slowly becoming unattainable due to their inconsistency, but the Steelers under Big Ben will not come up short as they win a crucial game with the playoffs on their mind.
San Diego Chargers 24 @ Carolina Panthers 31
Carolina and San Diego are two teams that are technically still in the hunt for a playoff spot. However, the odds that either one of them make the playoffs are about as realistic as seeing a double rainbow go over a blue moon with a unicorn riding its trail. These two teams are like the innocent kids in a horror movie. It's not a matter of if they don't make it, it's just a matter of when. San Diego has wasted a legitimately decent team that might have been in contention in one of the toughest divisions in football had a couple games gone differently through better 4th quarter play. Carolina had a lot of reasons to look up at the beginning of this season, but now they're just looking back at the season that could have been a good follow up to a Super Bowl qualifying team last year. This game could be close, with both teams fighting for the technical chance to be in the playoffs, but more realistically for the shreds of dignity they have coming out of this season. San Diego has played good games, but they haven't figured out how to win close and competitive games and that won't change this week as they fall to Carolina.
Minnesota Vikings 24 @ Jacksonville Jaguars 3
Minnesota was a team that looked like it could win before the season started and looked like it would dominate based on strong early season play even with injuries to the starting quarterback and running back. However, they have been playing like the Minnesota that they were expected to play like immediately after the injuries happened. They have become a team that relies too much on defense and does not have enough success on offense to match. The past two months have not been good for them as they have lost close games due to a low scoring offense, even as their defense would keep them in most of these games. If Minnesota is to make a legitimate run at the divisional title, they need to win consistently over the next month and a strong showing at Jacksonville will show that they have the potential to do that.
New York Jets 14 @ San Francisco 49ers 20
This game between New York and San Francisco is an interesting matchup because while most teams are thinking about the next month and whether their season will go further than that, the Jets and 49ers are more likely to be thinking about next season. Both teams could be thinking about next season for numerous reasons, whether that be looking towards draft picks or just to try anything to forget this abysmal showing. There are not a lot of positives to say about either one of these teams, but at least with these two facing off, this game could be quite competitive. I was thinking of putting the Jets down as my favorite to win here, but I remembered something I saw when I watched them this past week. I didn't see players fighting for something, I just saw a bunch of guys trying to get off the field, get a paycheck, and then go home. I don't see them fighting to win and I don't see them fighting for their coach, so I'm putting the 49ers to win because I still think there's a passion for them to want to win based on recent performances.
Atlanta Falcons 35 @ Los Angeles Rams 13
Atlanta is without a doubt one of the top teams in the NFC due to their explosive offensive production that is rarely limited. They had a tough loss by one point to the underrated Kansas City Chiefs, but that should not be held against them. If Atlanta plays to their full potential at the end of the season, they should win the division and might even get a bye if they are able to overcome the Seahawks and Lions. The Los Angeles Rams showed some signs of life early in the season and Jared Goff has had a good game or two, so they have some things to build from next season. That said, there just isn't enough there to save them from early elimination from playoff contention this season as they will fall to the Falcons who will dominate in a comeback performance.
New Orleans Saints 28 @ Tampa Bay Buccaneers 31
Tampa Bay is a team that people should really start paying attention to because of their performance in the past two months. They've won 6 of their last 8 and those two losses came against the Atlanta Falcons and the Oakland Raiders. There are no guarantees that Tampa Bay can sustain this success as teams bring their A-game to the last month of the season. However, if Tampa Bay keeps winning the way they do, then they have a good opportunity to get into the playoffs as a wild card spot. This game will be a close one and will have implications throughout the division and all of the NFC. I see New Orleans putting up a big fight, but I just don't see them beating the Buccaneers in Tampa Bay, especially since they have so much momentum.
Seattle Seahawks 24 @ Green Bay Packers 10
Seattle can be a very difficult team to get a good read on. One week, Russell Wilson will play good enough to look like one of the top quarterbacks in the league. The next week he'll play as though he's a rookie 2nd string quarterback who has never played on turf before. This is alarming, but if there are two things that the Seahawks are known for, it's physical defense and winning close games late in the season. Aaron Rodgers has been playing better than before, though it was hard to get much worse, and Green Bay will show signs of life at home. However, Seattle has too much on the line in this game and will go to Green Bay, pressure Aaron Rodgers into making mistakes, and win this game.
Dallas Cowboys 23 @ New York Giants 24
I have a major upset pick this week and it is that the New York Giants will beat the Dallas Cowboys in a close, yet essential matchup this week. There are many reasons for Dallas to win this game, whether it be the best offensive line in football, the best running back in football, or the best rookie quarterback in football. That said, there are also reasons for New York to win this game. New York has a tough schedule over the next month and has nothing secure when it comes to the playoffs, giving them a lot of incentive to play well. Landon Collins has been exceptional for the New York secondary and Olivier Vernon is playing like the player that New York paid him to be. I predict that Dallas gets some early scores, but New York gets some clutch catches from Victor Cruz and Odell Beckham Jr. to keep them close. The New York defensive leaders play their best football, even with Jason Pierre-Paul out, to match their offense and ensure that Dallas doesn't score any more points as New York edges out Dallas and shows the true potential of their team when everything comes together.
Baltimore Ravens 13 @ New England Patriots 24
Baltimore might be thinking very highly of itself this week based the performance they had last week. They beat a good Dolphins team at home and many might think that Baltimore could win against this New England team because of their recent success. However, Baltimore has only won two road games this season and those both were early in the season against the Browns and Jaguars. New England has problems because of Tom Brady being shaken up and Rob Gronkowski being out the rest of the regular season. That said, New England will likely have some snow, the Ravens have lost of problems with consistency, and are an awful team when it comes to away games. The New England Patriots win a winter game against a physical Ravens team that makes enough mistakes to cost themselves a potential win.