Cory Morgan
Sports Blogger, WGMU
March 16, 2016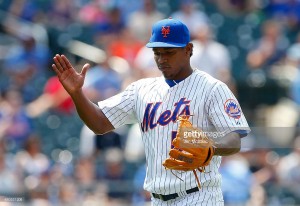 New York Mets right-handed pitcher Jenrry Mejia became the first player to be banned for life from baseball for performance-enhancing drug use during his playing time. It was announced last month. Isn't that shocking that he is the first player to ever be banned for life for PED use? Guys like Mark McGwire, Barry Bonds, and Roger Clemens come to mind immediately when talking about PED use in baseball. All three of those guys are eligible for the Hall of Fame, and were some of the best players of the last 40 years.
It is no secret that their admitted or strongly suspected use of PEDs in their playing days has kept them out of the Hall of Fame. They are all sure-fire first-ballot Hall of Famers.  And there have been plenty of other alleged and proved PED users certainly in the 1990's. But, the decision regarding Jenrry Mejia in February of 2016, just as spring training was starting for baseball, set a precedent for baseball.
Major League Baseball has been a magnet for controversy and league-wide issues. Since the American Civil War in the 1860s, gambling was an integral part of baseball and plenty of people around the game knew it. And it took the 1919 Chicago White Sox and Cincinnati Reds World Series fixing scandal to force baseball's hand in setting an example. There were opportunities for the governing bodies of baseball like Ban Johnson the president of the American League and essentially the commissioner at the time to punish baseball players for fixing games with gamblers. Since there was never a punishment doled out to participating parties involved in game fixing, gamblers and players were not scared off by the risk of serious punishment. But, it wasn't until the 1919 Black Sox scandal where baseball banned the eight players of Chicago. Two of the eight "Black Sox" like Joe Jackson and Eddie Cicotte would both be in the Hall of Fame if it wasn't for that.
The point of this history reminder is the Mejia decision reflects a pattern of organized baseball that was first shown after the 1919 World Series. Mejia failed three drug tests, and that was it for Major League Baseball. But, it took this long for a player to be banned for life from baseball for using PEDs, is this like the precedent that baseball set to ward off gambling in 1919? Only time will tell. People inside and outside of baseball locker rooms have known that PEDs have been a big part of the game, much like how everyone knew that gambling was a big part of the game in the early years of baseball. Organized baseball's behavior shows a similar pattern, just a different issue.