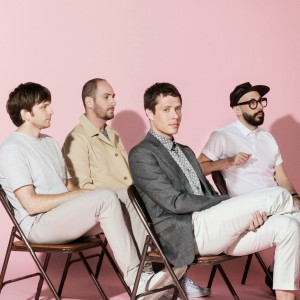 Formed in Chicago, Illinois, rock quartet OK Go defines imagination with daring exhibition and innovative graphics. Their most recent release "The One Moment" literally scopes the idea of creating something out of a blank slate. "The One Moment" comes from their 2014 album Hungry Ghosts (2014), and its video works as an addition to their complex portfolio of well-acclaimed music videos popularized on YouTube – let's not forget "This Too Shall Pass" with their Rube Goldberg machine, or their more recent "Upside Down & Inside Out", with the bandmates freeform dancing, mind you on a Russian jet, mind you again, in zero gravity.
OK Go (Damian Kulash, Tim Nordwind, Dan Konopka, Andy Ross) may not be flashy about their talents or overtly flashed by paparazzi, but maybe it's better that way. Fans pay attention to not only their sound, but the experience associated with it, the visual arts that embrace their music. Seeing their videos is like watching a story unveil, with the guidance of a single camera, and seeing a visual film unfold from the comfort of your computer. The videos are widespread, have a universal "wow" factor, and have an ingenious motion. Each video and work claims their territory in whatever setting they are examined under – an urban bar, a city hotel, a quiet gas station television, anywhere!
Their music has evolved from their 2002 boy band vibes with hits like "What To Do" and "Return", to now, a streamline collection of upbeat anthems like "Turn Up The Radio", "The Writing's On The Wall", and now, "The One Moment". Think of them as a fusion between Weezer's iconic storylines, Rooney's distinct use of guitar, and Vampire Weekend's dynamic identity.
The band and directors associated will be receiving the American Ingenuity Award for Visual Arts for their "Upside Down & Inside Out" music video, provided by Smithsonian Magazine in DC. Damian Kulash, lead singer and guitarist of the LA-based band, is a DC-native, so the experience will be a momentous homecoming for him and a success for his team.
OK Go's The One Moment
OK Go's The One Moment, Behind The Scenes
OK Go will be at The Hirshhorn Museum and Sculpture Garden this coming Friday, December, 9, at 6:30 p.m. They will be having an unplugged performance and exclusive conversation about the artistry behind their music videos. Free tickets will be released online tomorrow, Monday, December 5, at 10 a.m. EST. The event will also be available for livestream on Hirshhorn's Facebook page.
Link to tickets: http://hirshhorn.si.edu/collection/programs-calendar/#detail=/bio/ok-go-conversation/&collection=programs-calendar
Link to Facebook event: https://www.facebook.com/events/1779811782293846/
Livestream the event: https://www.facebook.com/hirshhorn/?fref=ts
More information about OK Go and the Ingenuity Awards 2016:
http://www.smithsonianmag.com/innovation/ingenuity-ok-go-visual-arts-anti-gravity-180961102/
http://www.smithsonianmag.com/innovation/2016-smithsonian-american-ingenuity-awards-180961117/
Facebook/YouTube: https://www.facebook.com/okgo/?fref=ts / https://www.youtube.com/user/OkGo & https://www.youtube.com/user/OkGoVEVO
Instagram/Twitter: @okgo / @okgo
Website: http://okgo.net/