Nick Colletti
Sports Blogger, WGMU
Wednesday April 20, 2016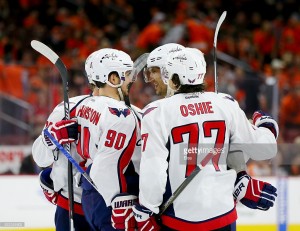 On what was an emotional game for the Flyers organization due to the passing of their founder Ed Snider, the Capitals would have to play gritty road hockey to take a commanding 3-0 series lead for the first time in franchise history. The start of the game would be undesirable for the Capitals, giving up the first goal 57 seconds into the game courtesy of Michael Raffl. But the Capitals would respond in a huge way starting with a Marcus Johansson deflection in the slot during a power play that tied the contest at 1. It would only go downhill from there on then for the Flyers and their passionate rabid fans.
In the second period, Nicklas Backstrom would do what he does best and find Alex Ovechkin with a perfect onside past as Ovechkin was crossing the blue line. Ovechkin would be relatively unguarded and given enough space to wrist one right pass Steve Mason on the glove side to give the visiting Capitals a one goal advantage. The second period would end a relatively competitive game thus far, but the Caps special teams proved to overwhelming for the Flyers in the third.
The beginning of the Flyers' collapse started with a fluke puck bounce off the wall dumped by Justin Williams that found its way in front of Steve Mason, only to be tucked in by a charging Evegeny Kuznetsov. This would be Kuznetsov's first goal of the series and the nail on the coffin for the Flyers in Game 3. Ovechkin would later find his second goal of the game off his trademark sniping slap shot and pass Dale Hunter for most points in Capitals' playoff history. It would be this goal that made the game much more chippy with a brawl eventually ensuing due to a severe boarding penalty placed on Dimitri Orlov, leaving him a little woozy but would eventually get up and continue to play.
Penalties were issued toward the Flyers and gave the Capitals more power plays for them to bury. Jay Beagle would make it 6-1 off a juicy rebound from Mason on a power play against a Flyers team that clearly gave up. The penalty was a delay of game infraction because the hometown fans kept throwing debris on the ice and exemplify why everyone can't stand Philly sports fans. Once the game concluded, the Capitals took a 3-0 lead and plan on sweeping the Flyers on their home ice in front of their disappointed fans this Wednesday at 7 pm. The series isn't over yet, in 2010 the Flyers made an epic comeback from a 3-0 series deficit against the Boston Bruins, a postseason in which they reached the Stanley Cup Finals as well. I believe the Capitals will end this series in either Game 4 or Game 5 and extend the Flyers' Stanley Cup drought that has plagued this franchise for generations.