Nick Colletti
Sports Blogger, WGMU
Tuesday April 26, 2016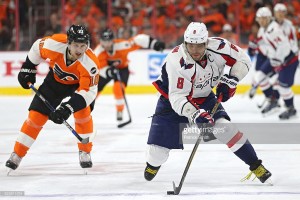 The Washington Capitals have eliminated the Philadelphia Flyers in what was a nerve-wracking six game series. With the Capitals gaining a 3-0 series lead, many in Caps Nation felt that another playoff disappointment would inevitably come its way. With a 1-0 shutout in Philadelphia, the Capitals have moved on and will face their hated nemesis in the Pittsburgh Penguins. The schedule has yet to be announced and the Capitals will have home-ice advantage, but with the Pens being as hot as possible at the absolute worst time the Capitals have their work cut out for them even if they play in the Red House.
Game 6 started with a physical first period as expected with both teams fighting for every inch of ice. In the second period, penalties would plague the Capitals yet again having to kill a double-minor high sticking penalty that was blamed on Nicklas Backstrom when in fact it was a Flyers' team mate that clipped Ryan White high, causing him to bleed profusely. Five seconds later, Matt Niskanen was charged with a hooking penalty that gave the Flyers a 5-3 advantage for almost two minutes. The Capitals' penalty kill however would come on top again and kill the 5-3, but still had to defend a standard power play due to the Backstrom penalty. With 30 seconds left on the high sticking infraction on Backstrom, Ryan White was called for holding a stick of a Caps player negating the Flyers power play. The opening tally would come seconds after the Capitals power play in which Nicklas Backstrom roofs it over Michal Neurvirth on a break away with beautiful assists from Alex Ovechkin and Marcus Johansson.
This would be the only goal needed for the Capitals to move on to bigger and better things. The Flyers would have a late third period push by emptying the net and trying vigorously to get the tying goal but the Capitals defense would just be too much for Philly to handle and Braden Holtby would get his second shutout of the series. The handshake line was amicable as both teams congratulated each other for their efforts in what was a brutal and hard-fought series. The Capitals goals are from over as they try to inch closer toward Lord Stanley in what would be a disappointing season if they didn't. For now, the Pittsburgh Penguins should be their next focus and to be prepared for a riveting series that most likely will be in the history books for generations. As they did with the Flyers series, the Capitals must not dwell in the past and ignore the fact that the Pens have won 7 of the last 8 series against the squad from D.C. If they do that and play at their biggest capability, those demons will be put to rest and will have a ticket to the Eastern Conference Finals.