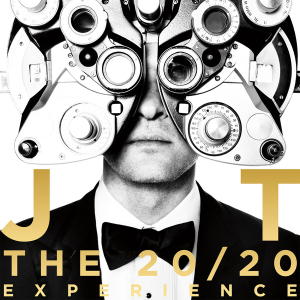 Justin Timberlake
The 20/20 Experience
RCA Records, March 15 2013
By Ishaba Haque
After a 7 year break from music, Justin Timberlake has made his comeback. And what a comeback it is. Timberlake's sophomore album, Grammy winning, FutureSex/LoveSounds created quite the impact back in 2006. It revolutionized pop music and created a new eccentric sound of music that still resonates with people. His number one single "SexyBack" did exactly what the title suggests. It brought sexy back and it brought JT back.
After the colossal success of FutureSex/LoveSounds Justin Timberlake took a break and transitioned to movies and SNL. But then again, with such success from an album, the pressure to create an album just as successful is a big one and JT needed the time off to make sure that eventually, he could come back with a bang.
His new album The 20/20 Experience is his first album in 7 years and so far, the biggest event in pop music this year. This album is anything but your generic pop album. It's unique and distinctive to Justin Timberlake and his partner in crime, producer Timbaland. That was evident when he premiered the first single from the album, "Suit & Tie" which got everyone excited for what was about to come. The instrumentation of this album is not your average guitar, piano, drum trio. In fact, my question is, what instruments weren't used in this album? "Don't Hold The Wall" incorporates sounds from the Middle East and India with the use of tabla's and Arabic string instruments. "Let The Groove Get In" starts off with an African inspired beat and a sort of tribal chant that makes you wonder, what goes through Timbaland's head when he produces this? It's genius, to say the least. "Pusher Love Girl" integrates the use of a cinematic quartet while smoothly transitioning into 4/4 organ melody.
Truth is, everyone who was a fan of FutureSex/LoveSounds has been waiting for JT to make a comeback. With the release of The 20/20 Experience it's safe to say, it was definitely worth the wait. The 7-8 minute length songs do nothing less than resonate the smooth, sexy personality that Justin Timberlake never fails to deliver. Basically, if you're a fan of post N'Sync Justin Timberlake, you'll love this album.