Kaleel Weatherly
WGMU, Sports Blogger
Friday February 3, 2017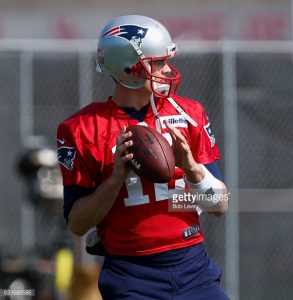 New England Patriots quarterback Tom Brady has achieved so much in his career. The 39-year-old is a four-time Super Bowl-winning quarterback, a two-time NFL MVP, and a three-time Super Bowl MVP.
Let's not forget that he is a 12-time Pro Bowler as well. Brady is the best quarterback of all-time because he achieved so much with different players on offense.
It's no secret that Brady has been throwing to a revolving door of receivers since he entered the league in 2000. For some reason, he always gets a lot production out of each receiver who comes to Foxborough.
Still not convinced? Well, according to Ricky Doyle of NESN.com, the 39-year-old signal-caller has thrown at least one touchdown pass to 64 different players in his career. He only needs to throw a touchdown pass to six different players to tie Vinny Testaverde record of 70. Here are some of the players who Brady threw a touchdown pass to:
Alge Crumpler
Doug Gabriel
Chad Jackson
Reche Caldwell
Bethel Johnson
These are not household names, folks. Some people say Brady is successful because he played in the same system for his entire career. Indeed, Patriots head coach Bill Belichick has been Brady's coach since he came into the league.
However, most people fail to realize that a quarterback has to build chemistry with his receivers and tight ends to be successful. And it usually takes a long time for players to build chemistry.
Even with new faces each year at the receiver positon, the Patriots' offense was still lethal. From 2009-2016, New England finished with a top-10 offense seven times. In 2014, it had the 11th-ranked offense.
Brady did play with some great players like Randy Moss, Wes Welker, Troy Brown, and Deion Branch. And the 39-year-old still plays with Rob Gronkowski and Julian Edelman.
When you think of the great quarterbacks in NFL history, most of them played with superstar tight ends and receivers throughout most of their careers.
For example, Peyton Manning threw to Marvin Harrison and Reggie Wayne. Joe Montana had Jerry Rice, and Troy Aikman had Michael Irvin. Moss, who is considered one of the best receivers of all-time, only played with Brady from 2007-2010.
Brady is the best quarterback of all-time because he achieved so much with players who did not have a lot of success with other teams. The four-time Super Bowl-winning quarterback always finds ways to win.