Kaleel Weatherly
WGMU, Sports Blogger
Sunday February 5, 2017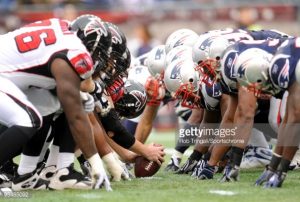 The New England Patriots will face the Atlanta Falcons in Super Bowl LI at NRG Stadium in Houston, Texas. This will be an exciting game to watch because both offenses can score points with ease. Falcons quarterback Matt Ryan and Patriots quarterback Tom Brady are two of the best signal-callers in the league.
Indeed, they will play huge roles in this matchup, but there are four other players who you should keep an eye on.
Mohamed Sanu (WR):
Patriots head coach Bill Belichick likes to take away what an offense does best. Atlanta likes to throw the ball to receiver Julio Jones. It's no secret that Jones is quarterback Matt Ryan's go-to target, especially in the red zone. The 28-year-old receiver will most likely face double coverage in this game, so Mohamed Sanu has to step up.
In 2016, Sanu caught 59 passes for 653 yards and four touchdowns. If Sanu can consistently make plays in this game, he gives Atlanta a chance of winning its first Super Bowl.
Chris Hogan (WR):
Many of you may not know who Chris Hogan is, but he has been a playmaker all season for the Patriots. His nickname is "7-11" because he is always open. In the AFC Championship game against the Pittsburgh Steelers, the 28-year-old finished with 180 yards and two touchdowns.
Hogan is a solid route-runner who can make difficult catches. Atlanta's defensive backfield will focus on containing receiver Julian Edelman, who is Tom Brady's go-to target. Hogan may not be the best receiver in the league, but he can wreak havoc on the field.
Vic Beasley Jr. (LB):
Falcons linebacker Vic Beasley Jr. had a stellar season in 2016. The 24-year-old led the NFL with 15.5 sacks. New England will try its best to make sure Beasley doesn't get pressure on Brady.
The young linebacker is a relentless pass rusher who can make game-changing plays. Even though Atlanta's defense struggled in 2016, Beasley was one of the few bright spots. Brady, watch out for Beasley.
LeGarrette Blount (RB):
Indeed, New England has one of the best passing offenses in the NFL. But running back LeGarrette Blount has been phenomenal on the ground in 2016. The 30-year-old ran for 1,161 yards and a league-high 18 touchdowns.
The Patriots will test Atlanta's front seven early and often. They want to see how stout the Falcons are on defense. In 2016, Atlanta had the 17th-ranked rushing defense, so New England will probably run the ball at least 25 times in this matchup.
Blount can wear down a defense because of his physical running style.