Kaleel Weatherly
WGMU, Sports Blogger
Wednesday February 1, 2017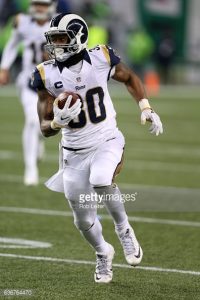 Los Angeles Rams running back Todd Gurley got off to a great start in the NFL, but fans are wondering what happened to the 22-year-old running back. Why didn't he have a great sophomore season? What happened to him?
Well, when the then-St. Louis Rams selected running back Todd Gurley with the 10th pick in the 2015 NFL Draft, they thought they were getting an Adrian Peterson-type runner.
Coming out of Georgia, Gurley's running style was similar to Peterson's. He possessed a rare blend of power, speed, agility, and quickness. Jeff Fisher, who was the Rams' head coach at the time, wanted the offense to be centered around the ground game.
Fisher wanted a running back who could run the ball 20-25 times a game. Gurley definitely fitted the bill. In his rookie season with the Rams, Gurley showed the NFL how lethal he could be. He ran for 1,106 yards to go along with 10 touchdowns, and he won the NFL Offensive Rookie of the Year award for his efforts.
However, the one-time Pro Bowler experienced the proverbial sophomore slump in 2016.
He couldn't find rushing lanes or break off long runs. Indeed, the Rams kept feeding defenses a heavy diet of Gurley, but he didn't make many big plays. The young runner ran for 885 yard to go along with six touchdowns and only averaged 3.18 yards per carry.
Now, Gurley should shoulder some of the blame for his sophomore slump. However, the Rams did not surround him with enough talent. It's hard to be a successful running back in the NFL when your offensive linemen cannot create rushing lanes for you.
The Rams' offensive line was mediocre at best. This unit didn't carve out enough space for Gurley. Also, the passing game struggled throughout the entire season. Both Case Keenum and rookie quarterback Jared Goff lined up under center for the Rams in 2016, but neither performed well.
Goff couldn't win a game for Los Angeles and threw for 1,089 yards to go along with five touchdowns and seven interceptions. Keenum only racked up 2,201 passing yards, nine touchdowns, and 11 interceptions. To make matters worse, Los Angeles' receivers and tight ends couldn't get open and struggled with drops.
Kenny Britt was the best receiver on this team in 2016, catching 68 passes for 1,002 yards and five touchdowns. Opposing defenses knew the Rams wanted run the ball with Gurley, so teams keyed in on Los Angeles' rushing attack.
The Rams need to surround him with talented players. Because of Gurley's sophomore slump and the offense's lack of production, Los Angeles fired Fisher after five seasons with the franchise. The Rams went 31-45-1 during Fisher's tenure with the team.
Now that they hired Washington's former offensive coordinator Sean McVay to be the team's new head coach, fans can expect Gurley to return to his old form.
Washington had the third-ranked offense in league last season. It also had the second-ranked pass offense. The 31-year-old head coach can come in and galvanize the Rams' pass offense.  That is great news for the 22-year-old running back because a successful pass game will take a lot of pressure off of him.
Gurley should be back in vintage form in 2017.