Music Director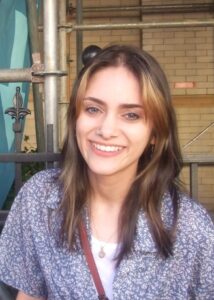 Year: Junior
Title: Music Director
Major: Communication
Host of: Slacker Hour
Position Description: I approve any and all music played on WGMU, along with the music placed in the studio (except locals). I'm responsible for reviewing music that is submitted to WGMU for on-air play, and responsible for the rotation selection, music being played through our off-air rotation on the OTS computer, charting to Spinitron, and other duties. Additionally, I program content highlighting the rotation selection on WGMU. I am the station's representative to record labels, large or small, and work with them closely to gain music for our station's rotation, along with forming partnerships.
What you love about WGMU: I love that WGMU has provided me with an outlet for my love of music. Through the radio, I've met some of my closest friends and have developed an even deeper connection with music.
Hobbies: All things music (concerts / vinyl / mediocre bass and guitar playing), watching horror movies, being far too obsessed with my dogs (Ziggy + Leeloo) and Gilmore Girls.
Favorite Bands/Artists: Jawbreaker / The Clash / Momma / Nirvana / Sonic Youth / PJ Harvey / The Breeders / Wolf Alice / and so many more… don't get me started folks.
Reach Amal and I at our Music Director email: wgmumusic@gmail.com
Follow me on Social Media!
Instagram: @slackerhour and @arbini.mp3
Spotify: Slacker Hour