Michael Revollo
WGMU Sports Blogger
February 10, 2016
Photo credit: (Kevin Frayer/ Getty Images)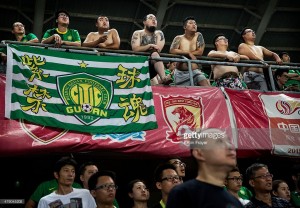 The winter transfer window: when January becomes a month filled with rumors and speculation as to what renowned European teams will spend millions to recruit world class players. Fans become more attentive to the news outlets, waiting to get word of a potential headlining transfer taking place.
This was not the case last month as the "Big 5" leagues in Europe, consisting of the English Premier League, Italian Serie A, Spanish La Liga, German Bundesliga, and French Ligue 1 collectively spent less money on transfers this winter transfer window compared to last year, according to a report from the FIFA Transfer Matching System (TMS).
If there was any notable news circulating through Europe relatable to transfers, it revolved around a manager as opposed to a player. Manchester City announced the appointment of current Bayern Munich manager Pep Guardiola as the new club's manager at the beginning of the 2016-2017 Premier league season, replacing current coach Manuel Pellegrini.
While the "Big 5" remained fairly quiet the past month, China decided to flex its financial muscle in the transfer market when multiple clubs from the Chinese Super League signed seasoned veterans and upcoming stars in European soccer to lucrative contracts. The most notable players to make their way to China were:
Alex Teixeira
Shakhtar Donetsk –>> Jiangsu Suning ($56.5m) (2/5/16)
Gael Kakuta
Sevilla FC –>> Hebei China Fortune FC (UNDISCLOSED) (2/5/16)
Jackson Martinez
Atletico Madrid –>> Guangzhou Evergrande ($47.5m) (2/3/16)
Gervinho
AS Roma –>> Hebei China Fortune FC ($20m) (1/27/16)
Fredy Guarin
FC Internazionale –>> Hebei China Fortune FC (UNDISCLOSED) (1/27/16)
Ramires
Chelsea FC –>> Jiangsu Suning ($24m) (1/27/16)
The Premier League, most notably, recently signed an unprecedented £8.3bn ($12bn) deal with British TV companies to broadcast league matches. As a result, all Premier League teams make a greater profit, providing them with more money to spend on desired transfer targets.
Teams accustomed to finishing in the middle of the table or below benefitted tremendously from this deal as it provided them with the necessary financial backing to rub shoulders with the "big clubs". With the form and results displayed by teams recently promoted to the Premier League this season (Watford FC, AFC Bournemouth, Norwich City) along with those who traditionally finish lower in the standings at season's end, having a little extra in the war chest to spend has made a difference. The Premier League could comfortably assume itself as the most profitable league capable of providing the most entertaining product to a yearning audience.
Despite its inception only dating back to 2004, however, the Chinese Super League turned many heads around the world over the last few weeks, particularly that of Arsenal manager Arsene Wenger. The Frenchman has already expressed concern of the influence the Chinese Super League can have over the Premier League and European soccer altogether.
"Yes, of course, the Premier League should be worried," Wenger commented. "Because China looks to have the financial power to move a whole league of Europe to China… I don't know how deep the desire in China is [to create a world class league], but if there's a very strong political desire, we should worry."
Wenger was asked whether China would inflate the transfer market in Europe, raising the price tag even further on highly coveted players, saying, "Yes, they could… I am sure that soon the £100m target will be easy to reach. (The Guardian)"
The transfer window has been shut for the "Big 5" as of February 1st (England) and 2nd (Italy, Spain, Germany, France). China, however, has until February 26th to continue on with transfer business, leaving plenty of room for speculation as to what other high-profile players will be lured to the big money contracts they have to offer.