Becker Alshowk
WGMU Sports Blogger
February 9, 2016
Photo Credit: (Getty Images)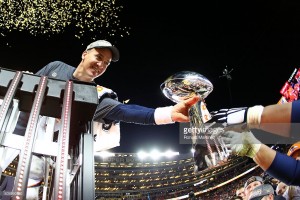 This may have been Peyton Manning's last game, but his #1 ranked Denver Broncos (15-4) Defense stole the show vs. The Carolina Panthers (17-2) #1 scoring offense in Super Bowl 50.

Super Bowl 50 MVP Defensive End, Von Miller, and the rest of the Bronco's defense dominated in a 24-10 victory over the Cam Newton led Carolina Panthers.

Peyton Manning earned his 200th career victory, surpassing 2016 Hall of Fame inductee, QB Brett Favre, for the most of all-time.

With 10:47 left in the first quarter, Peyton Manning and the Denver Bronco offense scored the first points of the game, by scoring a field goal on their first possession. Later in the first, Von Miller sacked & forced Newton into a fumble, which was returned for a touchdown by Bronco's Defensive Tackle, Malik Jackson, with 6:34 remaining in the first quarter.

Miller, who had 6 tackles, 2 and a half sacks, and 2 forced fumbles, said postgame on his performance, "Peyton and DeMarcus and coach Phillips and all the guys that have been deserving their whole, whole career. I did this for them. I put my neck on the line for those guys."

A day after the NFL announced Panther's Quarterback Cam Newton as the Regular-Season MVP, Cam struggled to live up to that honor in Super Bowl 50. Newton was held to 18 for 41 on passing completions, for 265 yards, 0 touchdowns, and 1 interception. Newton also had 2 lost fumbles, totaling a turnover tally of 3.

Bronco's cornerback Chris Harris Jr. said postgame on their game-plan for Newton, ""We dared him to throw. Did you see him dance today? We were the ones dancing."

With his hoodie over his head, Newton unenthusiastically said postgame on how they lost the game, "We dropped balls. We turned the ball over. We gave up sacks. We threw errant passes. That's it." Newton, in frustration, walked off the podium before reporters were done asking him questions.

With little than half a quarter played, the Panthers were in unfamiliar territory, already down 10-0. The Panthers hadn't in either of their previous 2 playoff games against the Seahawks and Cardinals, leading up to the Super Bowl.

Fortunately for the Panthers, their defense kept them in the game until the fourth quarter. The Panther defense held Peyton Manning to only 141 passing yards, on 13 for 23 passing, for the entire game. As well as the Panther's defense living up to being the #1 ranked defense in forcing turnovers, forcing Manning into 2 turnovers (1 interception, 1 forced fumble).

With 11:28 left in the second quarter, the Panthers scored their only offensive touchdown of the game, with a Jonathon Stewart 1-yard Touchdown run.

Thanks to Bronco punt returner, Jordan Norwood's 61-yd punt return, which set a new Super Bowl record, with 9:28 remaining in the second quarter, the Broncos tacked on a field goal. That gave the Broncos a 13-7 halftime lead.

After missing a 44-yard field goal in the Panthers first possession of the second half, Panthers kicker Graham, made a 39-yarder, with 10:21 remaining in fourth quarter. That made the score 16-10.
Cam Newton had a chance to lead to Panthers to a game-winning drive late in the fourth quarter. But, Von Miller had his second forced fumble on Newton with 4:21 left in the game.

Bronco's running back C.J. Anderson, who finished with 23 rushes for 90 yards, scored a 4-yard touchdown run with 3:13 remaining. This was the Bronco's only offensive touchdown of the game. Peyton Manning and the Broncos offense then converted a 2-point conversion to make the score 24-10, which ultimately became the final score.

Broncos cornerback Aqib Talib, showed just how exciting and exhilarating it is to have won the Super Bowl in his postgame press conference. Talib, with emotional joy, said at the podium, pointing to his wife, "You're looking gorgeous, baby. We're gonna get it in tonight."