Anthony Fennell
Sports Blogger, WGMU
Thursday October 27, 2016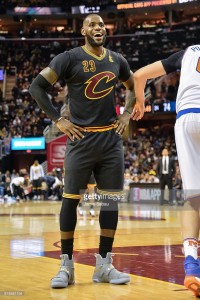 As the NBA season kicked off , excitement filled the air with both a championship ring ceremony taking place, as well as some new faces in new places. The season opened up with the 2015-16 champion Cleveland Cavilers still in championship mode as they absolutely dominated the new look New York Knicks.
The Cavs begin the night reflecting and celebrating their championship run by receiving their rings and raising that coveted championship banner in Quicken Loans Arena. The Cavs however, didn't just celebrate their accomplishments from last year but they also celebrated their dominance on the court, Tuesday night. With LeBron James demonstrating why he is still the best player in the NBA made this game no contest.
Producing a magnificent stat-line of 19 points, 11 assists and 14 rebounds, James dropped his first ever opening night triple double. With LeBron in full force the rest of the Cavs were on a mission as well to show the league that their championship run last year was no fluke. The big three of LeBron, Kyrie and Kevin Love had a total of 71 of the Cavs 117 points, with Kyrie and K-Love dropping 29 and 23 points respectively.
While Cleveland ran up and down the floor producing highlight reel plays, excellent ball movement and pretty efficient shooting numbers, the New York Knicks were seemingly the opposite. Carmelo dropped only 19 points while Porzingis and D-Rose added 16 and 17 points. While Rose wasn't great he did a lot better than the three remaining newcomers the Knicks brought in over the summer to change the dynamic of a disappointing team last year.
Newcomers Courtney Lee, Joakim Noah and Brandon Jennings combined for a dismal 7 points. All 7 however, came from Brandon Jennings himself. While the season is young, it is unacceptable for starters such as Courtney Lee and Joakim Noah to contribute merely nothing on the offensive or defensive end.
With it only being one game, things appear to be heading in the same direction. Cleveland seems to be destined for greatness yet again, while the New York Knicks have a lot of growing they must do.