Nick Colletti
Sports Blogger, WGMU
Thursday October 27, 2016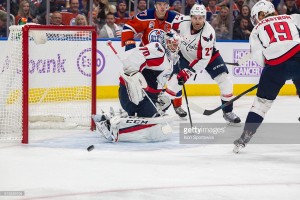 The Washington Capitals kickstarted a western Canada road trip with a Wednesday showdown in the Oilers new and refined barn that is being hailed as the best venue in the NHL. The Oilers, full of exciting young talent and future superstar Connor McDavid, were determined to show the NHL and its followers that their team was the real deal by defeating a powerhouse Capitals team. After a continent spanning plane flight, the Capitals set out to begin this demanding road trip with a victory on enemy ice.
Edmonton would light the lamp first putting added pressure on the Capitals offense to develop scoring opportunities. Alex Ovechkin would answer right back with a five-hole goal passed former Rangers' goaltender Cam Talbot. Momentum seemed to have been in Washington's favor until Benoit Pouliot banked the puck off of Braden Holtby's numbers, sucking away all the energy the Capitals bench had and now found themselves playing catch-up once again. There effort however would be in vain as the Oilers offense would shine with goals by Patrick Maroon and Milan Lucic netting the twine and igniting the Edmonton crowd's jubilance.
The Capitals have suffered consecutive regulation losses for the first time since March 11-13, 2015. The Vancouver Canucks await at Rogers Arena in what will be a critical game for the road squad. The season is still very young which makes it that much more important to get as many points as possible so playing catch-up will not have to be a rigorous option. A win against Vancouver will breed confidence in the locker room and bring some sense of relief for the players and the organization of a franchise that is pressured to do excel this spring.