Anthony Fennell
Sports Blogger, WGMU
Friday October 28, 2016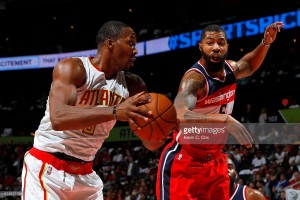 As the Washington Wizards opened the 2016-17 season there were high hopes that a new coach, system and culture would produce better results from the jump, however that wasn't the case. A season that started with a road trip to Atlanta to face their southeast division foes started strong but ended rather poorly. When the team needed to deliver most they fell into some of their old ways that plagued them seemingly all of last year.
While John Wall and Bradley Beal the "house of guards," produced below average performances due to both poor shooting and foul trouble, the team still found themselves well within the game at the beginning of the fourth quarter. Having a lead at one point the in the 4th, the game appeared to be headed down to the wire. However, a poor overall defensive effort, lack of focus, and lack of desire turned a one-point lead into a 15-point deficit quickly.
Careless passes and mistakes with the basketball, led to an array of wide open transition baskets for the Hawks. Tim Hardaway Jr, a surprise star of the night was left wide open on many occasions due to a lack of desire and effort on the defensive end which was ultimately the dagger of the night for the Wizards.
Of Hardaway's 21-point night, 12 of them were scored in the fourth quarter, including back-to-back three pointers at one point that helped them pull away. Paul Millsap had a game high 28 points, while Dwight Howard had 11 of his own in his Atlanta debut. Markieff Morris led all Wizards scorers with a game high 22 points but it seemingly wasn't enough.
When it is all said and done this game was lost in the fourth quarter. After the game Bradley Beal stated that, "We got a lot of good looks. Some went down, some didn't." "But at the end of the day, we can't control our offense. We can control our defense and our effort. We just gave up the last quarter and a half."
The Wizards look for better luck on Sunday as they travel to face a pretty good Memphis Grizzles team who has started their season 1-0. The hope is that the team will get things back on track focusing on the defensive end first.