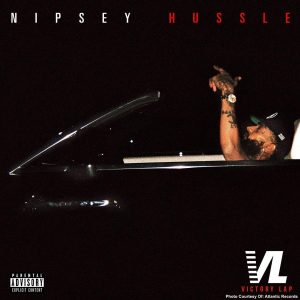 By: Rosemary Idisi
Nipsey Hussle, Grammy nominated rapper and songwriter from Los Angeles, California, was shot and killed on Sunday March 31st. The world lost a brilliant artist, philanthropist, activist, entrepreneur, and family man. 
 The last album Hussle produced was titled Victory Lap and was released in February of 2018. This album was his first full-length album and major commercial release after dropping several his entire career. 
 When Victory Lap first debuted, it reached number four on the Billboard 200 and received a Grammy nomination for Best Rap Album.  
 Prior to Nipsey's death, Hussle had almost two million streams on iTunes and just one day after his death, Victory Lap became number one on iTunes and had 57 million music streams. The day he died, Nielsen Music told The Associated Press that 2,000 copies of his albums were purchased that day, followed by 9,000 copies the next day, 4,000 copies the day after that, and sales keep increasing.  
 Nipsey's album Victory Lap has sixteen tracks on it and pays tribute to the rappers' hard work and achievements. It also looks ahead to the future and all he has yet to build and those he can still inspire. 
 This album featured many guest artists such as Kendrick Lamar, Puff Daddy, YG, Buddy, CeeLo Green, and more. This is more than the typical album would have but all these collaborations added depth to the songs and painted a lot of pictures with the different voices. 
 Nipsey's first song on the album is the title track, "Victory Lap" and it opened with the lyrics, "-I'm prolific, so gifted, I'm the type that's gon' go get it, no kidding." This was a very bold opening, but this was a bold man. From the second he opened his mouth in this first song to the last verse in the last song, you could hear the passion and determination in his voice. 
 Another track on the album titled "Dedication" featured rapper Kendrick Lamar and the perfect song for you to listen to if you're hungry for success. If the lyrics, "-dedication, hard work plus patience, the sum of all my sacrifice, I'm done waitin-'" doesn't motivate you I'm not sure what does.  
The track "Millions While You Young" featuring The Dream was definitely a change of pace from the other tracks on this album. The other songs were very energetic while this one was a refreshingly slower pace. In this song, it's like Nipsey is giving advice to listeners, giving them the ropes of becoming a success story. 
 The track titled "Hussle & Motivate" on the album samples Jay-Z's "Hard Knock Life" and talks about the bigger picture behind his hustling. Nipsey made so many declarations in each song on this album and he said things that other rappers probably want to say but are too afraid to because of backlash. That's one thing about this rapper, he didn't care about the backlash.  
 If Nipsey Hussle had something to say, he said it and if there is something he wanted to do, he did it. A lot of what he did was good and very beneficial to the community, which is why after his death it was announced that his contributions to South Los Angeles will be entered into the Congressional Record to be a part of U.S. history forever.  
Some may listen to the songs on this album and not find any meaning behind the lyrics but bob their heads and enjoy the tune. Nipsey knew exactly the people he was speaking to and the people he was being a voice for, and the most important thing is that they understand.