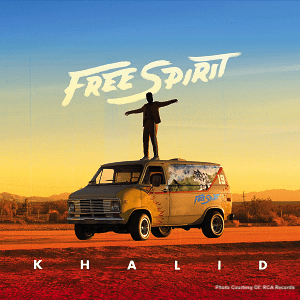 By: Rosemary Idisi 
American singer and songwriter Khalid dropped his second studio album Free Spirit (2019) last week on April 5th. The singer teased this album in various posts on social media for months before its release and fans praised the highly anticipated release. 
Free Spirit has seventeen tracks on it, including the singles from Khalid's 2018 EP Suncity "Better" and "Saturday Nights." The album's lead single "Talk" was released in early February.  
 "Talk" was made in collaboration with electronic production duo- Disclosure and gives off major R&B dance vibes. This single is about a relationship moving too fast and the need to talk about it.  
 Another single from the album, "My Bad' was released in early March and reached the Hot 100 charts, becoming the artist's twentieth song to make the chart. "My Bad" is contextually similar to "Talk." The song deals with problems with communication between Khalid and whoever his lover is. This track was called an "apology track" because Khalid is basically saying sorry for not replying to a text, which as we know, drives women crazy.  
 The track "Self' was released later in March as another single for the album. This song focuses on Khalid addressing his anxiety and self-reflecting, which we get from the lyrics, "-I don't need another hand, I need a couple suggestions. Always had a little trouble with self-reflections." The rhythm of this song is so mellow, almost hypnotic, and the beat just adds to the vibe of the entire album. 
 The last single that was released for the album is titled "Don't Pretend" featuring Safe. The single dropped just two days before the album was released. In this song, Khalid's voice is so soothing and melodious with the guitar in the background. 
 Khalid has quite the ear for melodies and beats and he mixed them together with beautiful lyrics to make this album. If you're looking for something to listen to while on a road trip, laying on the beach, or to just vibe to, Free Spirit is the album for you.  
 Not only did Khalid drop this amazing album, he accompanied it with a short film that was released in theaters worldwide for one night only. This gave fans a chance to hear the entire album while watching a short film titled "Free Spirit" created by the singer. In the film, Khalid used the music to tell the stories of what it was like growing up. What other artist has ever done this?  
 Khalid is such a creative artist and his work and ideas are very unique. He is real, you can hear it in every song on this album. Khalid will be going on a world tour which will take him to major venues across the United States and Canada starting June 20th.