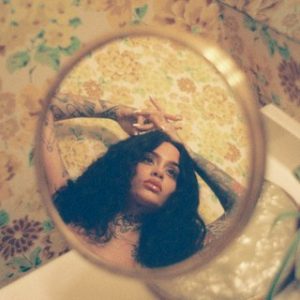 By Rosemary Idisi
Earlier this year, Kehlani dropped her third album While We Wait (2019). This album reached #9 on the Billboard's 200 chart when it opened and became Kehlani's second album to be among the top 10 on the chart.  
While We Wait has a track list of nine songs and features guest artists like 6lack, Ty Dolla Sign, Musiq Soulchild, and Dom Kennedy. If you like the sound of 90s R&B, pop, or rap, this is the perfect album for you because this album contains all three of those genres.    
This album really manifests the kind of artist Kehlani is which is a down-to earth contemporary R&B artist. The songs are mellow, raw and refreshing.  
 The opening song for the album is called "Footsteps", which begins with the sound of rushing water. Any album that begins this way is either going to be a banger or leave you crying at the end. This song starts with the lyrics, "-and when I walked away, I left footprints in the mud so you could follow." Need a new break-up anthem? This might be it. 
There are so many songs on this album that are relatable. Do you have an ex that won't mind their business? The song "Nunya" needs to be added to your playlist. Going through a moody break-up? The banger "Nights Like This" is the perfect song to drive around at night listening to (but don't drive to your ex's house). 
 On the song "RPG", Kehlani and guest artist, 6lack, take on the roles of lovers. This song opens with the lyrics, "-you told me I'm beautiful 'cause I told you, you don't tell me enough," and make the singer appear insecure and in desperate need of reassurance from her partner. The rhythm to this song is so tuneful its almost hypnotic.  
 The most relatable song of the album for many would definitely be "Morning Glory." In this hit, Kehlani sings about men needing to be prepared to see their women stripped bare before bedtime if he plans on seeing her looking brand new in the morning. The lyrics, "-if you don't want me at my goodnight then you can't have me at my morning glory," are truly iconic.    
 The song "Too Deep" is fun to listen to, but a bit repetitive. If you feel like things are going too far or getting too complicated with someone, then this song is pretty relatable. Plus, there was a reference to Candy Crush in the song which is… cool. 
 While We Wait is Kehlani telling stories of experiences through love, life, and just being a woman in general. This is the perfect album to validate your feelings and reassure you that you're not the only one whose been through it in a relationship or possibly wanted to leave your past behind. This is definitely the album for you if you like mellow vibey music that you could possibly relate to.