Jason Brightman
Director of Sports Programming, WGMU
November 11, 2015
Photo Credit: Associated Press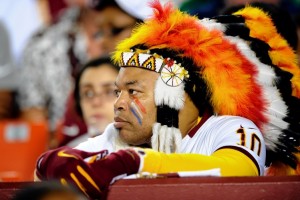 Another year, another disappointment.  That will be the story for this year's Washington Redskins as the burgundy and gold are 3-5 and staring at some of the worst stats in the league.  As of week 9, the Washington Redskins are 28th in scoring, 29th in yards per game, and allow over 130 yards per game on the ground.  Add all that to the once explosive running attack of Matt Jones and Alfred Morris (now a stagnant swamp of about 51 yards per game in their last four) and you are left with the typical poster-child of a Washington Redskins season.
This is all without mention that their once-crowned "savior to the franchise" Robert Griffin III is now the third string quarterback and on his way out at the end of the year.  Though Scot McCloughan does seem to be heading this team in the right direction, it is clear that they are still some time removed from playoff participation, let alone contention.
There are signs of hope, however.  Though at 3-5, the Redskins sit only 2 games behind the NFC East-leading Giants.  A few division wins could put this team in line for a possible 8-8 playoff birth.  As unlikely as that may seem, the rest of the division is not much to talk about.  The Eagles are yet to find their identity, winning games they shouldn't and loosing ones they should win.  The Cowboys are hurting with their star Tony Romo out until Week 11, and the leading Giants just let Drew Brees tie the NFL record for most TD passes in a game.  With that in mind, there is still a small glimmer of hope for the Skins.
Whether or not you are buying into the team, you have to admit that despite the stats, injuries, and exit of 2 first round picks in the form of a 3rd stringer, maybe you can have hope.  Maybe Scot McCloughan is that hope, maybe the freak running back Matt Jones, or maybe it is the idea that it cannot get any worse….can it?  Whatever the case, it may not seem like it now, but the Redskins are slowly but surely on their way to building a successful franchise; without anyone even knowing it.