Mitchell Westall
Sports Blogger, WGMU
November 12, 2015
Photo Credit: Associated Press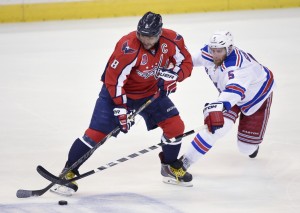 The Caps have played fourteen games so far this season and as of the conclusion of Wednesday night's games they are second in the Metropolitan division to the very team that ended their previous season, the New York Rangers. There is only one word that can describe this capitals team through their first fourteen. Different.
Ovechkin and Backstrom are separated, there is finally a top right wing, Ovi has not scored a single goal from his patented "Ovi spot," other players actually know how to score goals, and second year center Evgeny Kuznetsov is must-see TV.
The Capitals have 10 wins and four losses which is good for 20 points to start the season. The last time they started off this well, the Redskins made a Super Bowl run (Do not get your hopes up for it to happen again this year everyone). Point is, it has been awhile.
Their success this season can be attributed to quite a few factors. Starting goalie Braden Holtby has been solid. He has gotten a lot of help from his defense, facing the least amount of shots per game among starting goaltenders. He's sporting a 2.01 goals-against average as well as a .920 save percentage. He is also tied for second in the league with eight wins behind only Minnesota's Devan Dubnyk. His save percentage has been a little bit low but that can be blamed on his defense for not allowing any shots. Don't you hate it when the defense does their job and ruins Holtby's stats? (Sarcasm)
Due to offseason hip surgery, top line center and complement to the great eight, Nicklas Backstrom missed the first three games of the season. This forced the Capitals to slide Evgeny Kuznetsov up to the first line between Ovechkin and newcomer TJ Oshie. In those three games, Kuzy played well enough to hold that spot, so head coach Barry Trotz inserted Backstrom in between Marcus Johansson and another newcomer in Justin Williams. From then on, Kuznetsov has looked like the player we all waited since 2010 to see. He is second to Ovechkin on the team and 13th in the league with fifteen points while leading the Caps in assists with ten (14th in the NHL). He has made numerous jaw dropping plays and he even scored his first career hat trick in a game against Edmonton. Backstrom has also played well down on the second line and could switch up to the first line at any moment.
Capitals fans have high expectations for this season, mainly due to the acquisitions of TJ Oshie and Justin Williams. They started off the season as the top two right wings respectively, although the past few games have seen Williams on the third line with Jason Chimera and Jay Beagle while Andre Burakovsky creates an all-Swede second line dubbed "Tre Kronor" (name of the Swedish national hockey team, translates to "three crowns") by Coach Trotz. This move had nothing to do with performance as Williams has played really well, Trotz just wanted to see what Burakovsky could do in the top six. Williams has two goals to go with nine assists (tied for second on the team, 23rd in the NHL). Oshie has four goals and four assists. While their statistics are not necessarily huge, they have brought strong forechecking, physical play, and an edge to this team that has created arguably one of the best top-six forward units in the game.
Even though the Caps have had a few tough losses, they have showed signs of serious strength. It will be interesting to see how the season plays out in terms of injuries, trades, etc. and whether the Capitals can bring the first championship to DC since 1992.
Three Stars So Far
Third Star– Braden Holtby, Goalie, 8 Wins (2nd in NHL), .920 SV% (17th in NHL), 2.01 GAA (6th in NHL)
Second Star- Alexander Ovechkin, Left Wing, 8 Goals (5th in NHL), 8 Assists, 16 Points (7th in NHL)
First Star- Evgeny Kuznetsov, Center, 5 Goals, 10 Assists (14th in NHL), 15 Points (13th in NHL)
Unheralded Star
Dmitry Orlov, Defenseman
In the season opener, he stepped onto Verizon Center ice for the first time in over a year and he has played really well in the third pair with Nate Schmidt and occasionally Taylor Chorney. Orlov has joined the rush, played the high point on the power play, and has some of the best possession numbers in the entire league. Welcome back Dima!
Record Watch
As the entire world knows by now, Alexander Ovechkin recently tied Russian forward and 2015 Hall of Fame inductee Sergei Federov as the leading Russian-born goal scorer in NHL history. His next goal is inevitable and he should shatter the record. Tuesday night in Detroit, with Federov in attendance, Ovechkin took a personal best fifteen shots on goal, scoring on zero of them. If it makes him feel any better, his team mates could not solve Petr Mrazek either as the Caps lost 1-0. Ovechkin and Federov were teammates in DC for the 07-08 and 08-09 seasons, and Ovechkin looks up to him as a mentor.
The Road Ahead
Thursday 11/12 7:00 PM @Philadelphia (5-7-3) CSN-DC, CSN-PH
Friday 11/13 7:00 PM vs. Calgary (5-10-1) CSN-DC
Wednesday 11/18 @Detroit (8-6-1) NBCSN
Injury Report
Jay Beagle- Undisclosed injury- He was a game time decision Tuesday night but he ended up playing without limitations so his position here is merely a formality as he is not expected to miss any time.
Brooks Orpik- Lower body injury- He left the game in the second period Tuesday night and never returned with a lower body injury. Wednesday's practice was canceled so his status will become clearer at Thursday's morning skate in preparation for their matchup against the Flyers. If he is unable to go look for Taylor Chorney to slide into a pairing with John Carlson in his place. Hopefully Brooks is alright and does not miss much, if any time.
Follow me on Twitter for play by play and Caps talk and other Capitals related tweets
@capsweekly